Westcott Medium Apollo Speedlite Softbox Kit (28")
Product Highlights
Versatile modifier kit is an ideal key or hair light for speedlights
Lightweight softbox collapses down to the size of an umbrella
Quick and convenient setup without speedrings
Designed with durable fiberglass ribs for years of use on location or in the studio
Features recessed edge for added light control
Included grid controls light spill and lens flare
This product is currently out of stock. If you wish to be informed when it is back in stock, please click on the link below.
A Versatile Light Modifier
With a 28" square construction, we designed the Medium Apollo with versatility in mind. This light modifier is large enough to act as a key light source for headshots or product images, yet small enough to act as an accent light, giving you a range of lighting options.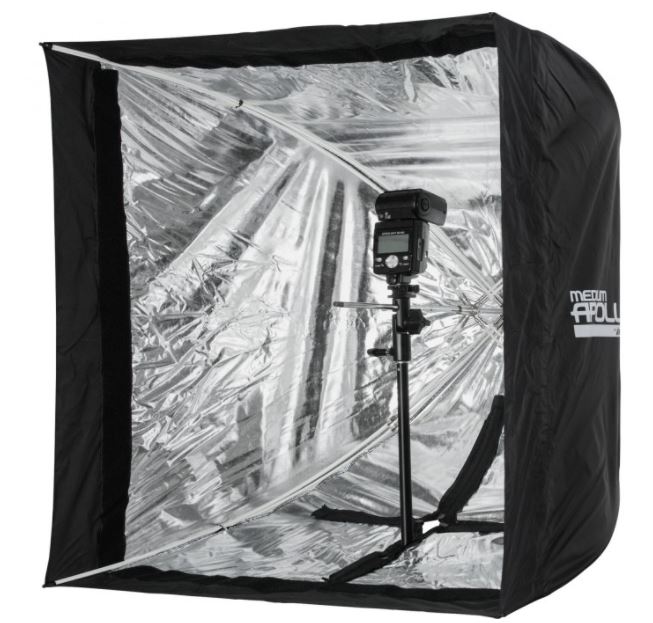 For Speedlites and Strobes
Do you shoot with both types of off-camera flash? Thanks to the Apollo and Halo's versatile umbrella shaft, these modifiers can be instantly paired with both speedlites and strobes. With these softboxes, you won't be confined to using a single lighting style or forced into buying various modifiers.
Direct and Soften Light
By directing your light source toward the Apollo's included diffusion front, you'll create drastic highlights with a subtle hot spot. By directing your unit towards the back of Apollo, you'll create an even spread of light with softer shadows. You can even pick up an optional 40-degree Egg Crate Grid for more light control options.
Instant Setup
With flexible framework and convenient umbrella-style design, these modifiers open and collapse quickly for effortless setup and storage.
Say Goodbye to Speedrings and Rods
Unlike most softboxes, these modifiers are constructed with an umbrella-style frame. Not only does this allow for the instant assembly, but it also allows for quick strobe mounting without bulky speedrings or adapters.
Equipped with the Latest Technology
Since their introduction in 1985, these umbrella-style softboxes have been enhanced based upon consumer requests. The latest Apollo design features a recessed edge, flexible fiberglass frame, and removable outer diffusion panel.
Premium Diffusion Fabric
Our diffusion panels are constructed with a premium, all-natural unbleached nylon fabric. Unlike processed diffusion fabrics, these diffusers will soften your light source without altering its color temperature.
Maximize Output
Apollo softboxes are manufactured with a highly-reflective silver interior for optimized light output.

What's in the box?
1

×

Medium Apollo Softbox (28") #2334NG

1 x Adjustable Shoe Mount Speedlite Bracket #5015
1 x Light Stand (8') #9908