Westcott Convertible Compact Collapsible Umbrella - Optical White Satin with Removable Black Cover (43")
Product Highlights
Portable diffusion and reflection
Collapses to only 14.5″
Telescopic shaft
7mm tapered tip
Included travel case
This product is currently out of stock. If you wish to be informed when it is back in stock, please click on the link below.
Photo Umbrella Measurements Guide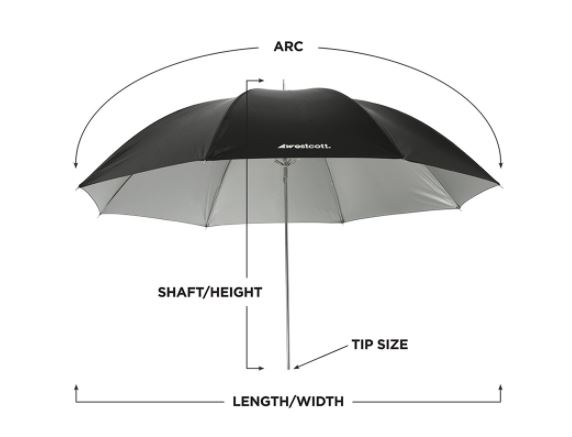 The umbrella size is determined using the arc size.
Westcott umbrellas feature 8mm shafts fitted with 7mm tips.
What's in the box?
1 x Westcott Convertible Compact Collapsible Umbrella - Optical White Satin with Removable Black Cover (43")
Compatibility
Speedlight, Studio Lights
Mount Type
Umbrella receptacle
Arc Length
43.0" / 109.2 cm
Shaft Length
26.0" / 66.0 cm
Shaft Size
8mm Shaft with 7mm tip
Tip Size
7mm Tip with 8mm shaft
Materials
Nylon, Fiberglass, Steel