Elinchrom ELB 1200 Pro To Roll Kit
Product Highlights
Designed for work on the road
$3,155.00 (inc GST)
Regular price: $6,087.00
This product is currently out of stock. If you wish to be informed when it is back in stock, please click on the link below.

ELB 1200
The Ultimate Outdoor Unit 
The Premier Adventure Light For Photographers.

With a weight of only 4.3 kg, the Elinchrom ELB 1200 is a remarkably powerful, robust and portable battery pack designed to take photographers to new heights!

 

Equipped with a bright dimmable LED modelling lamp, the flash heads provide exceptional lighting capabilities for both still photography and video.
Why ELB 1200 ? 
Lightweight, Portable & Weather-Resistant


Lighting Gear Built to a New Standard


 
 
 

A Powerful Unit

1200 Ws, for only 3,2 kg (without battery) 
Compact: 18 cm x 13 cm x 28 cm
Weather resistant design
Fast recycling times: 1.7s in FAST mode, 3s in DEFAULT mode

A Strong Flash Head

Aluminium housing and tilt head
Flash and/or continuous LED light (dimmable)
For both still photography and video

Li-Ion Battery

Battery Air (included): 1.1 kg
215 flashes / 80 min continuous LED light
Battery HD (optional): 1.5 kg
400 flashes / 120 min continuous LED light
USB output to charge mobile devices



Great Power Into a Small Package
Strong Powerful & Practical
Features

 

A and B outlets
2:1 (66%:33%) asymmetry
1:1 (50%:50%) option
1.7s recycling time in FAST mode
3.0s recycling time in DEFAULT mode
Large OLED control display
Head recognition
LED illuminated outlets, show which head is active
Each head can be activated or deactivated separately
Flash duration display
Strobo, delay and sequence features
Precise colour consistency
Reliable flash duration consistency
USB input for firmware updates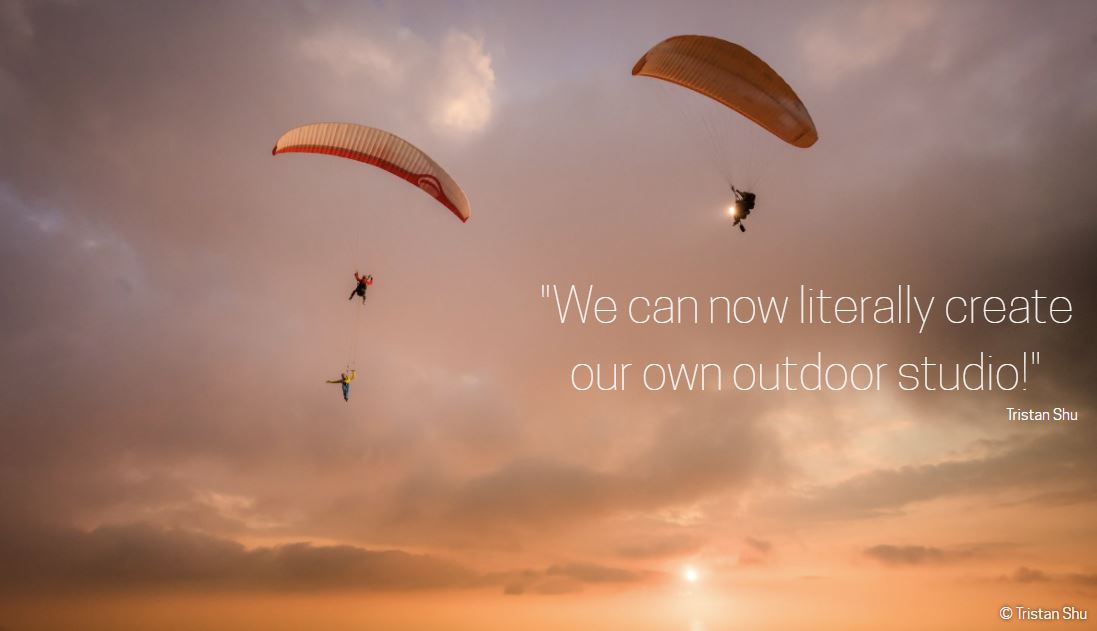 A Flash Head Built to Resist
Still Photography & Video Capabilities



Specifications

92 CRI dimmable daylight LED
Equivalent to 250w Halogen lamp
For both still photography and video
Aluminium housing
22.5 cm x 14 cm x 23 cm
2.2 kg
Aluminium tilt head
7 mm and/or 8 mm umbrella tube
Silent video mode
Compatible with all full sized Elinchrom accessories


A Power-House for On-Location Use
The Perfect Battery Size


Battery Air - 90 Wh

Designed to travel safe and light.

The battery Air offers 215 flashes at full power, or 80 min of continuous light at full LED power.

An ELB 1200 unit with a battery Air is allowed as carry-on baggage for travelling by Air with one spare battery.

The battery Air is included with the ELB 1200.

 
Battery HD - 144 Wh

A power-house for studio and on-location use.

The battery HD offers 400 flashes at full power, or 120 min of continuous light at full LED power.

This item is not included in the set and has to be purchased separately.

Features

Battery Air - 1.1 kg
Battery HD - 1.5 kg
Weather resistant
Humidity and dust protected
Battery box cover for safe transportation
5V USB power output
Shipping mode for travelling
Battery charge level indicator
What's in the box?
1 x Elinchrom ELB 1200 Pro To Roll Kit
1 x Elinchrom ELB 1200 Power Pack (With Battery)
1 x Elinchrom ELB 1200 Pro Flash Head
1 x Elinchrom ProTec 3-Head Rolling Case
1 x Snappy Carrying Option with Shoulder Strap
1 x Shallow Umbrella
1 x Elinchrom Grid Reflector (7")