Nitecore UNK1 Dual-Slot USB Travel Charger for Nikon
Product Highlights
5-VDC Input Power
Powered by USB/Portable Bank/Solar Panel
Second Slot for Backup Battery
Reverse Polarity and Anti-Short Circuit Protection
Enjoy incessant supply of power on the go
USB dual-slot travel charger for Nikon camera. Designed exclusively for Nikon Camera. 


Professionally made to exceed expectations
Good riddance to the outdoor charging conundrum, breaking loose from technical constraints inherited in conventional camera charging. 
Compatible with multiple input sources
Easily copes with situations where AC input is not possible. Compatible with an array of portable power banks, solar panels, USB adaptors, can be used in conjunction with Nitecore's F1 flexible power bank to ensure endless power supply (Note: The F1 flexible power bank in conjunction with a fully charged 18650 battery holds enough charge to fully charge 1-2 camera batteries) 


Dual slot specifically designed for enthusiasts, tending to the needs of both the primary and backup cameras. 
Slot on front and bottom facades.
Thoughtful design to accommodate the needs for enthusiastic photographers who carry primary and backup cameras, eliminating concerns for power shortage for either camera 


Smart charging management system
The UNK1 takes advantage of the smart charging management system; it monitors battery status, showing battery voltage, charging current, temperature and battery level and other parameters; and automatic adoption for the optimal charging modes between CC and CV.


Battery recovery
The UNK1 will attempt to recover over-discharged batteries when inserting in the charging slot. Upon successful battery recovery. The entire battery level indicator will flash to represent that a battery has been successfully recovered. This feature only works with protected batteries. 
Reverse polarity and Anti-short circuit protection
The UNK1 makes use of mechanical reverse polarity protection. Inserting incompatible batteries or incorrect battery installation will prevent the initiation of the charging process. The error message ' EE EE' will appear on the LCD display when a short-circuited battery is installed.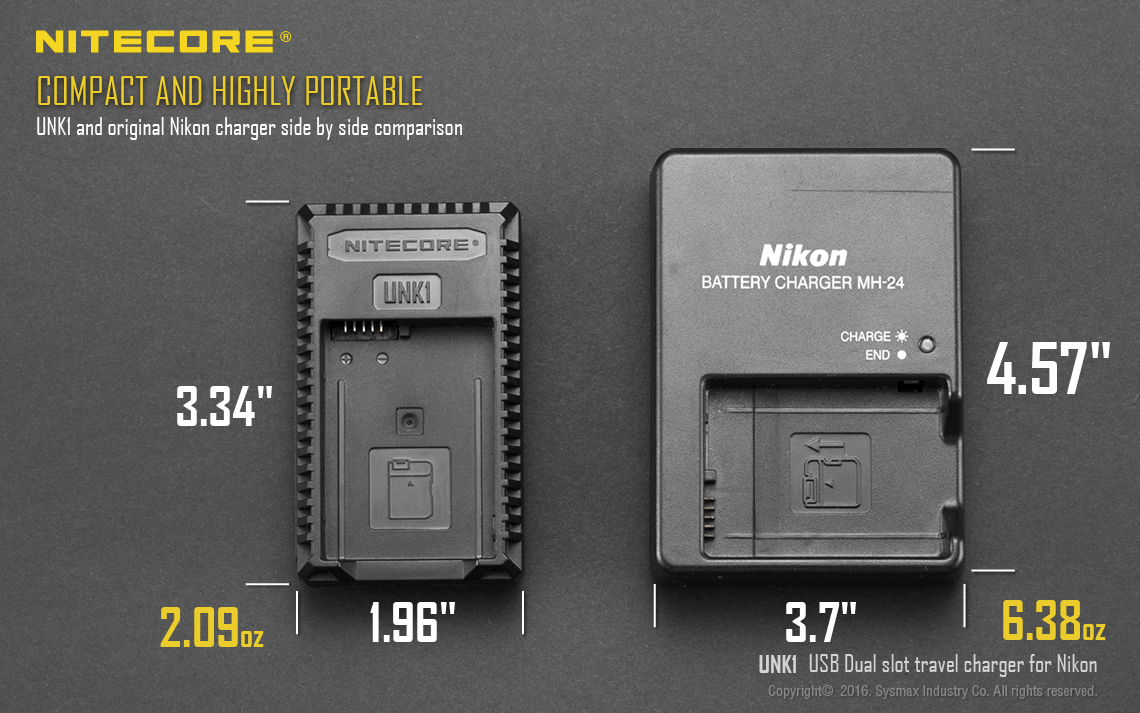 What's in the box?
1 x Nitecore UNK1 Dual-Slot USB Travel Charger for Nikon
Output Voltage
Slot 1 (EN-EL15) 8.4V±1% Slot 2 (EN-EL14/EN-EL14a) 8.4V±1%
Operating Current
1000mA (MAX)
Compatibility
Nikon camera batteries (EN-EL14/EN-EL14a and EN-EL15) EN-EN_L14/EN-EL14a compatible models: Nikon D5600, Nikon D5500, Nikon D5300, Nikon D5200, Nikon D5100, Nikon D3100, Nikon D3200, Nikon D3300, Nikon D3400, Nikon Df, Nikon Coolpix P7100, Nikon Coolpix P7000, Nikon Coolpix P7700, Nikon Coolpix P7800, Nikon D3X EN-EL15 compatible models: Nikon D600, Nikon D610, Nikon D750, Nikon D800, Nikon D800E, Nikon D810, Nikon D810A, Nikon D850, Nikon D500, Nikon D500 100TH ANNIVERSARY EDITION, Nikon D7500,Nikon D7000