Nitecore UNK2 Dual-Slot USB Charger for Nikon
Product Highlights
Compact and Portable
Charges two batteries in two hours
LCD displays real-time charging details
Dual Slot USB charger for Nikon
Specially designed for Nikon. Compatible with EN-EL 15/ EN-EL 15a / EN-EL 15b camera battery. 


Professional camera battery charger
Getting rid of the outdoor charging conundrum, breaking loose from technical constraints inherited in conventional camera charging. 


Specially designed for Nikon camera users
Considering the using habit of the Nikon camera user, the UNK2 can charge two Nikon camera batteries simultaneously. You will no longer miss out on any splendid moment due to power inadequacy. 


A MAX output of 1000mA
It takes only 2 hours to fully charge the battery, ensuring efficient and rapid charging


Compatible with multiple input sources
Compatible with various mobile power sources, solar panel and USB adaptors, can be used in conjunction with NITECORE F2 flexible power bank to ensure endless power supply. 


Intelligent USB charging management system Automatic adoption on charging mode
The UNK2 takes advantage of the smart charging management system; it monitors battery status, displaying battery voltage, charging current, battery temperature and charged volume; and automatic adoption for the optimal charging modes between CC and CV.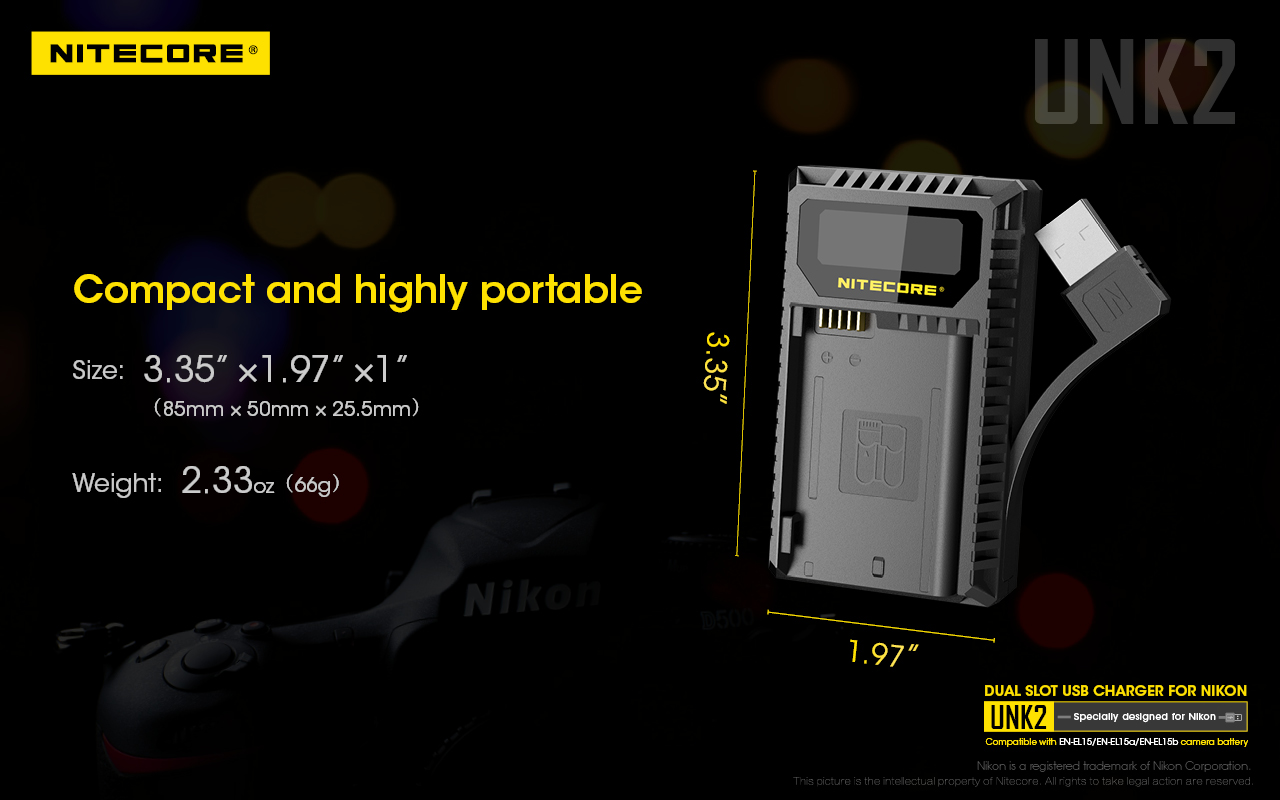 What's in the box?
1 x Nitecore UNK2 Dual-Slot USB Charger for Nikon
Output Voltage
Slot 1 8.4V±1% Slot 2 8.4V±1%
Operating Current
1000mA (MAX)
Compatibility
Compatible camera model:Nikon D500, Nikon D600, Nikon D610, Nikon D750, Nikon D800,Nikon D800E, Nikon D810, Nikon D810A, Nikon D850, Nikon D7000,Nikon D7100, Nikon D7200, Nikon D7500, Nikon 1V1, Nikon V1, Nikon Z6, Nikon Z7