Sony SF-G Tough Series UHS-II SDHC Memory Card - 128GB
Product Highlights
128GB Storage Capacity
UHS-II / V90 / U3 / Class 10
Max Read Speed: 300 MB/s
Max Write Speed: 299 MB/s
Min Write Speed: 90 MB/s
Records 8K, 4K, Full HD
No challenge too great for the engineered toughest2 SD card 

Introducing the faster, tougher SD card.
Designed for professional performance and extreme reliability, this is the toughest SD card. No matter how challenging your shoot gets, the SF-G series TOUGH specification delivers performance and durability you can depend on.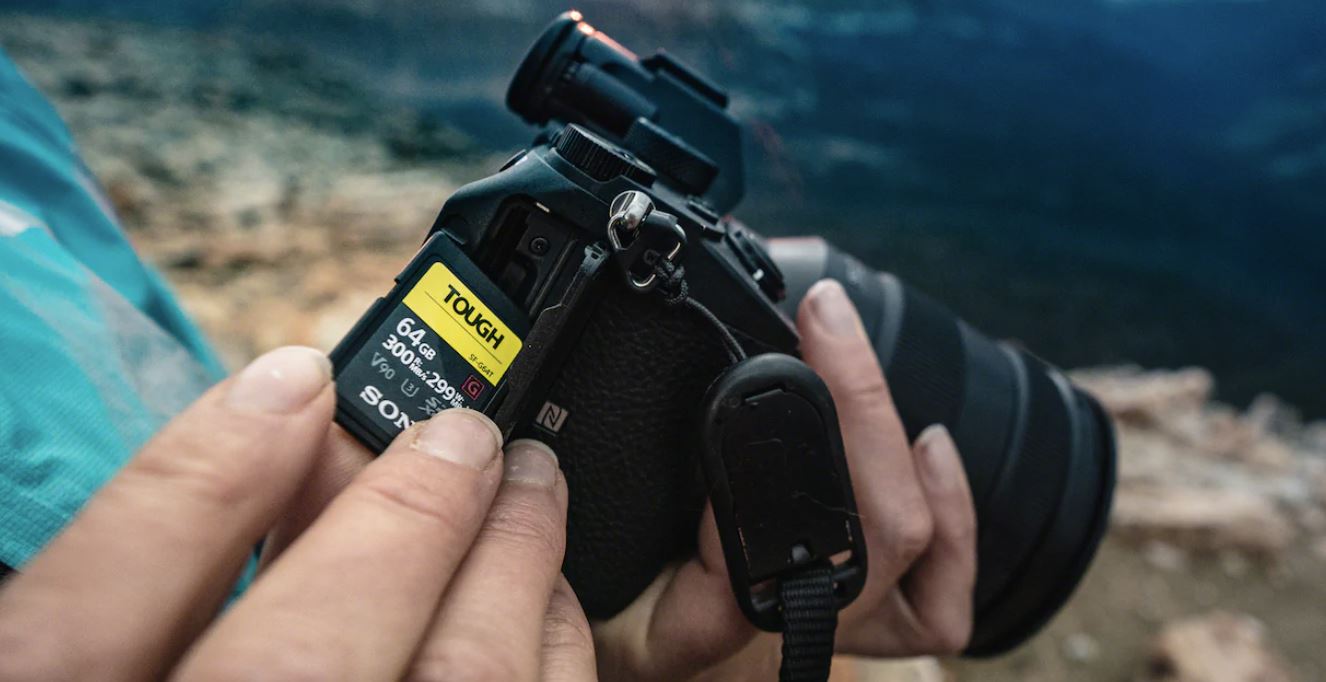 Bodyguard-tough to protect your data

An ultra-strong resin-moulded design makes the SF-G series TOUGH specification cards 18 times more resistant to bending than conventional SD cards. That's toughness you can rely on for high-stakes shooting, in any environment and in any weather.

 Arm yourself against mud, muck, and mayhem

The ultimate in peace-of-mind for irreplaceable images. Dust, dirt, water, mud and grime proof, for confidence in even the most extreme conditions.
 

Rock-solid durability and protection from impact



Made from rock-solid materials in one-piece moulding, the new SD card withstands drops up to 5m 3.
 

World's first one-piece moulded structure4 creates one singularly rugged SD card

With an innovative one-piece moulded design and high-durability materials, the SF-G series TOUGH specification cards give professional photographers peace of mind and protection wherever their shoots take them.



World's first ribless SD card4 for added toughness



The new SF-G series TOUGH specification gets rid of the fragile connector ribs and write-protect switch found on conventional SD cards, which are the parts that make it difficult to record data if broken.
 Uncompromising durability and reliability for uncompromising professionals
The world's fastest5 SD card
Whether you shoot high-resolution still images or 4K video, no other UHS-II SD card writes or reads data like the SF-G series TOUGH specification. The high-speed memory cards provide fast buffer clearing time after burst shooting and an efficient process for transferring content to a computer.


 

Ultra-fast write speeds for continuous shooting

With an industry-leading write speed up to 299 MB/s6, SF-G series TOUGH specification cards are optimised for continuous shooting and fast buffer clearing.

 

 Faster back-up and data transfer


Spend more time shooting and less time transferring and backing up data with up to 300 MB/s6 read speeds via the UHS-II interface.

 Optimised for high-resolution video

Supports the highest Video Speed Class - V90 - for stable 4K and high-bitrate video capture.
Reliability, backed up
Custom software keeps your card performing at its peak.
SD Scan Utility


Over time all SD card memory wears out and the card stops recording data reliably. Sony's SD Scan Utility regularly and automatically scans your SD memory cards and lets you know before they reach their limits.

SD Scan Utility can be downloaded at Sony's official website. 
Memory Card File Rescue7

Never fear. Even when things go wrong, you can avoid disaster with downloadable rescue software that recovers accidentally deleted files and corrupted photo and video files in todays' most common formats.

File Rescue can be downloaded at Sony's official website.
What's in the box?
1 x Sony SF-G Tough Series UHS-II SDHC Memory Card - 128GB
1 x Card Case
Tripod Connector

TRANSFER SPEED (WRITE)
Up to 299MB/s (HD312), Up to 90MB/s (SDR104)

TRANSFER SPEED (READ)
Up to 300MB/s (HD312), Up to 95MB/s (SDR104)

SPEED CLASS
Class 10 (SD Speed Class), Class 3 (UHS Speed Class), V90 (Video Speed Class)

INTERFACE
UHS-II
Footnotes

1 Prices indicated refer to Suggested Retail Price which includes GST and may change from time to time without prior notice and/or may vary for the same product with different colours.

2 As a consumer SD card. Based on Sony internal testing which conforms to SD bending test standard. Sony investigation as of September 2018.

3 Based on Sony testing.

4 As a SD card of 2.1mm thick. Sony investigation as of September 2018.

5 As of September 21th, 2018.

6 Up to 300 MB/s transfer speed; write speed up to 299 MB/s. Based on Sony internal testing. Transfer speeds vary and are dependent on host devices, the OS version or usage conditions. To effectively utilise the product's high-speed capabilities, your compatible device must support UHS-II.

7 File Rescue downloadable software available at official website. Does not support data recovery for Content Protected and Game Data files. Not all data may be recoverable.

8 This product is also known as SF-G128T, SF-G128T/T1 SYM, SF-G64T, SF-G64T /T1 SYM

9 Actual colour and dimension may differ from the screen image.

10 Colours & features of the product shown may differ by model and country.

11 4K: 3,840 x 2,160 pixels.

12 Services availability depends on region. A part or whole of software/services installed into or accessible through the product may be changed, discontinued, removed, suspended, or terminated without notice.

13 Features and specifications are subject to change without prior notice.