Product Highlights
"100 ways of shooting effects" by combining lens effects and film effects

Analog-style operations with dials and lever, designed with attention to detail including shape and operation sound

High-quality instax prints

Dedicated app to link with a smartphone for further broadening photographic enjoyment
FREE with Purchase:

1pc instax Pouch*
1pc instax Metal Pen Clip*
1pc 64GB Micro SD Card*

*to be redeemed from FUJIFILM Studio by 15 October 2023 (please bring along warranty card and invoice).
100 DIFFERENT EXPRESSIONS
Use the lens and film dials in combination to express your creativity in 100 different ways.
Set up and capture your unique shots using the LCD screen.
The mini Evo sparks ideas to unlock endless ways to express yourself!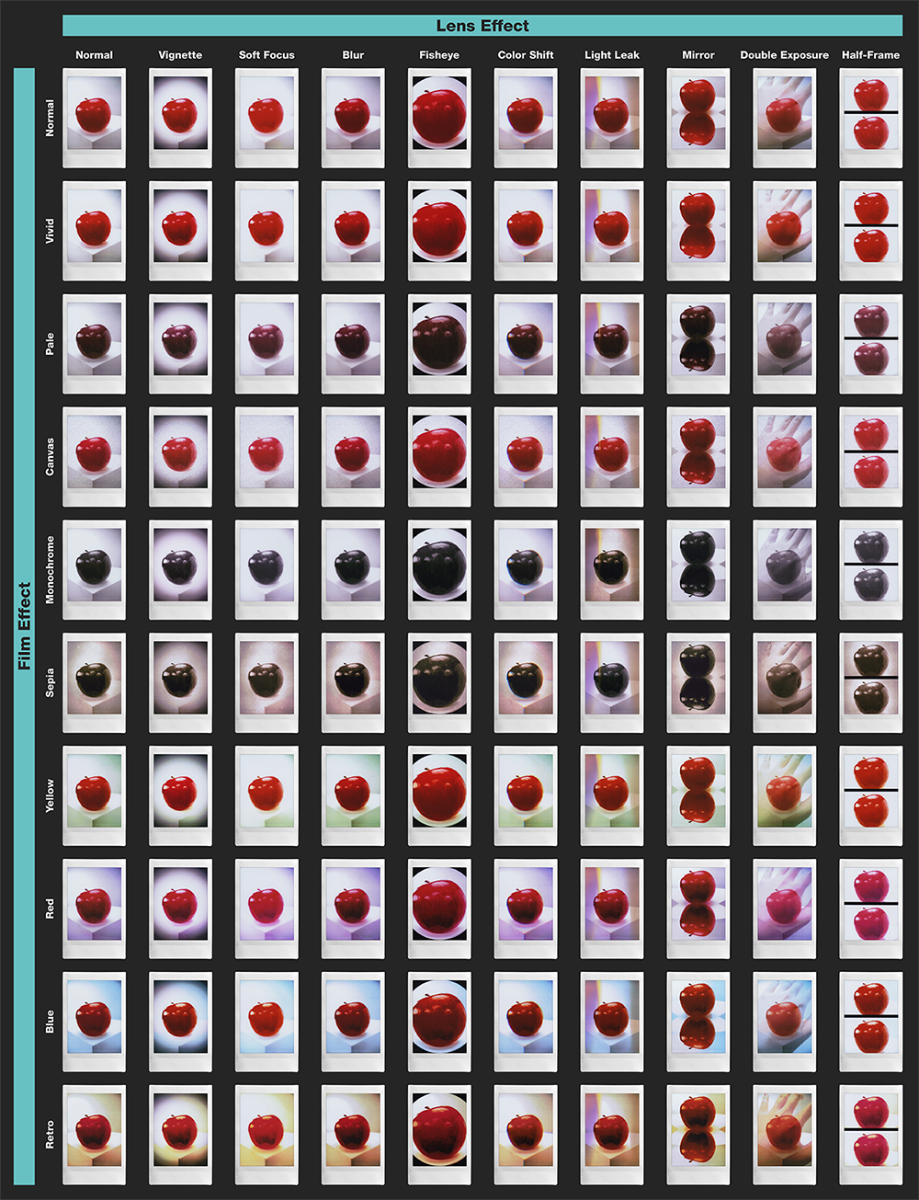 10 Lens Effects
Set the light just how you want it with 10 different lens effects.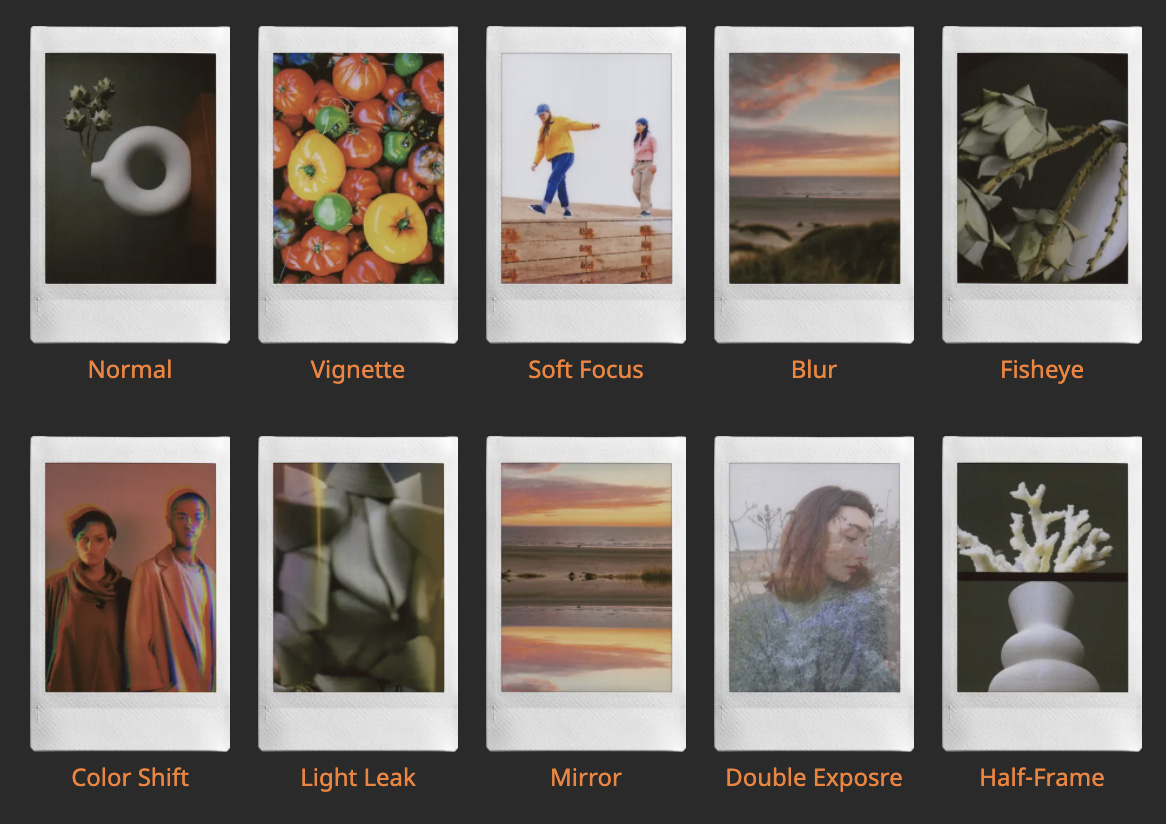 10 Film Effects
Express incredible nuance with 10 different film effects.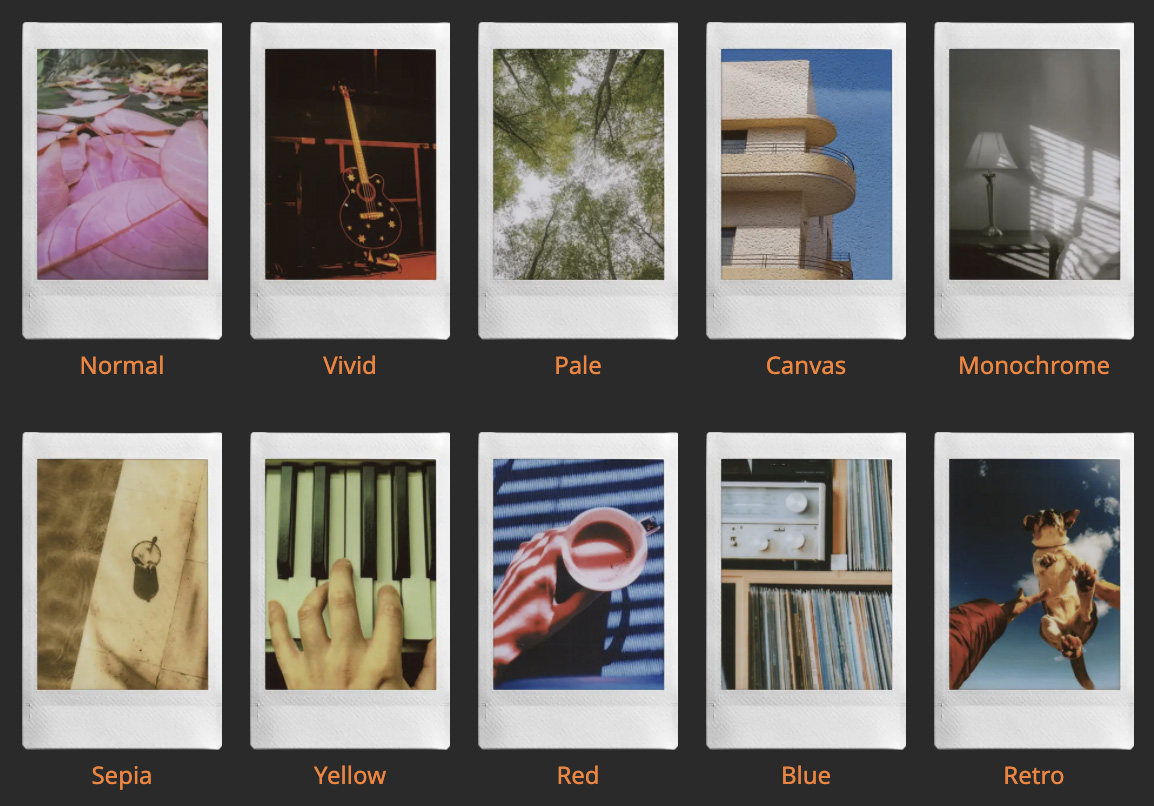 App Features
App connectivity for simple use
DIRECT PRINT
Send pictures from your Smartphone to the camera and print them out.
STEP 1: Choose a picture from your camera roll.
STEP 2: Crop the picture and print! Use filters and color correction to get the perfect image!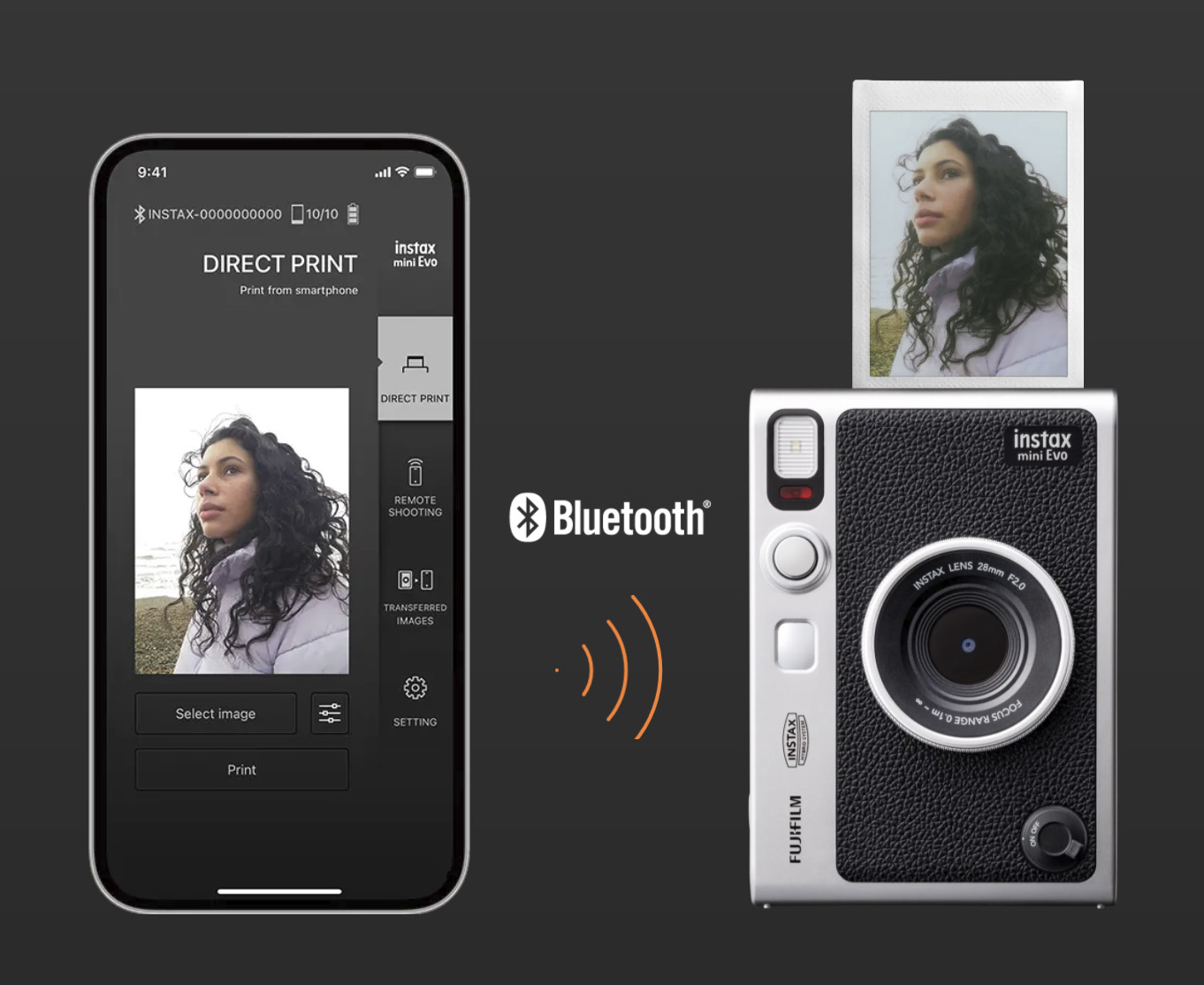 SAVE PRINTED IMAGES FUNCTION
Printed pictures can be saved as images with an instax frame on your Smartphone. Share your favorite shot on social media!
STEP 1: Select TRANSFERRED IMAGES.
STEP 2: Select the image you want to save from the list of images transferred from your mini Evo to your Smartphone.
STEP 3: Select save.
STEP 4: Select a background color. You can even select and edit images from your camera roll to use as background image.
STEP 5: The image is completed.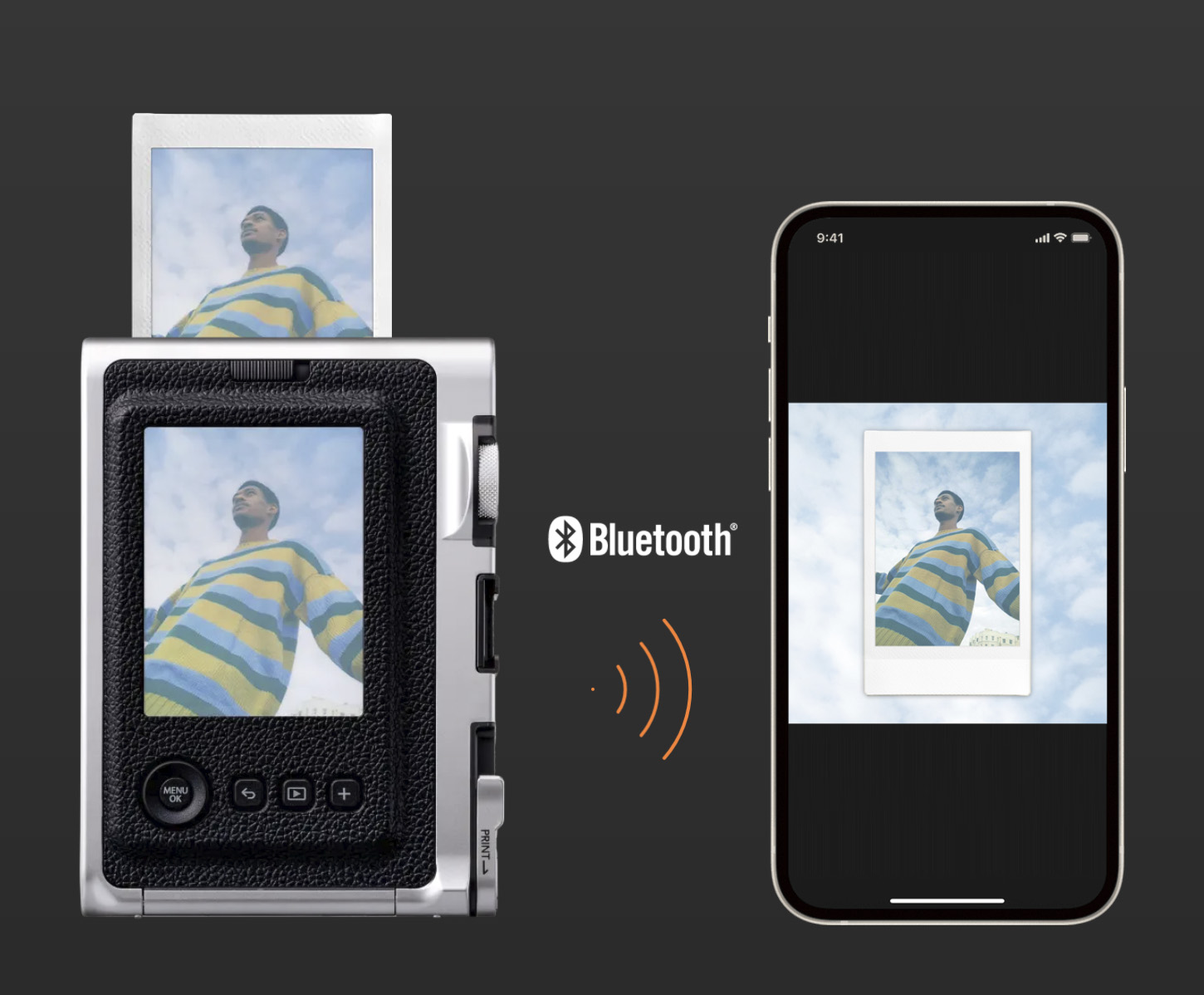 REMOTE SHOOTING
Use your Smartphone as a remote control.
Release the camera shutter using your Smartphone as a remote control.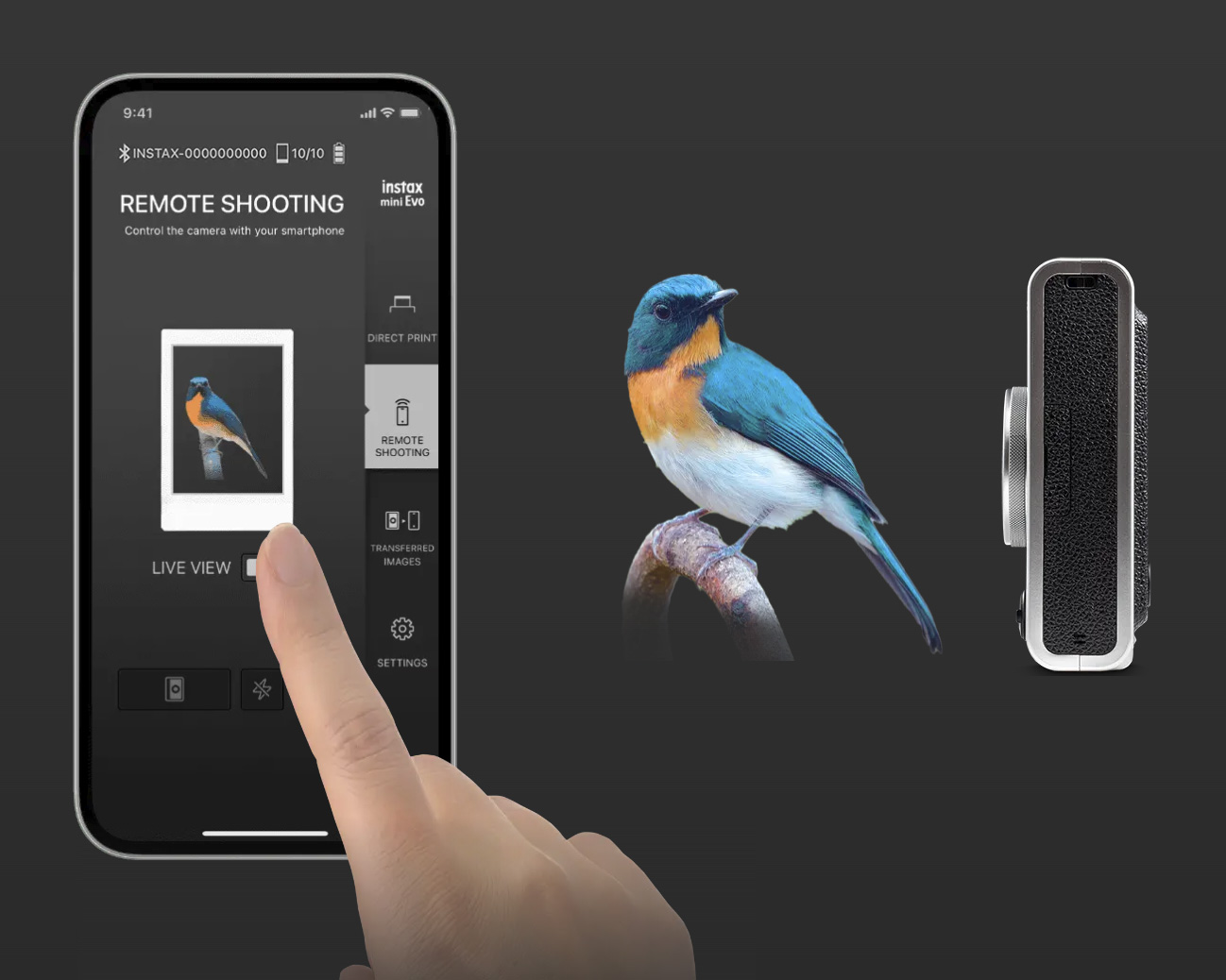 HIGH PRINT QUALITY
There are 100 different and fun ways to express yourself and get high quality instax prints.
"instax-Natural Mode" for conventional image quality and "instax-Rich Mode" for vibrant colors.
Change how you express yourself in every image!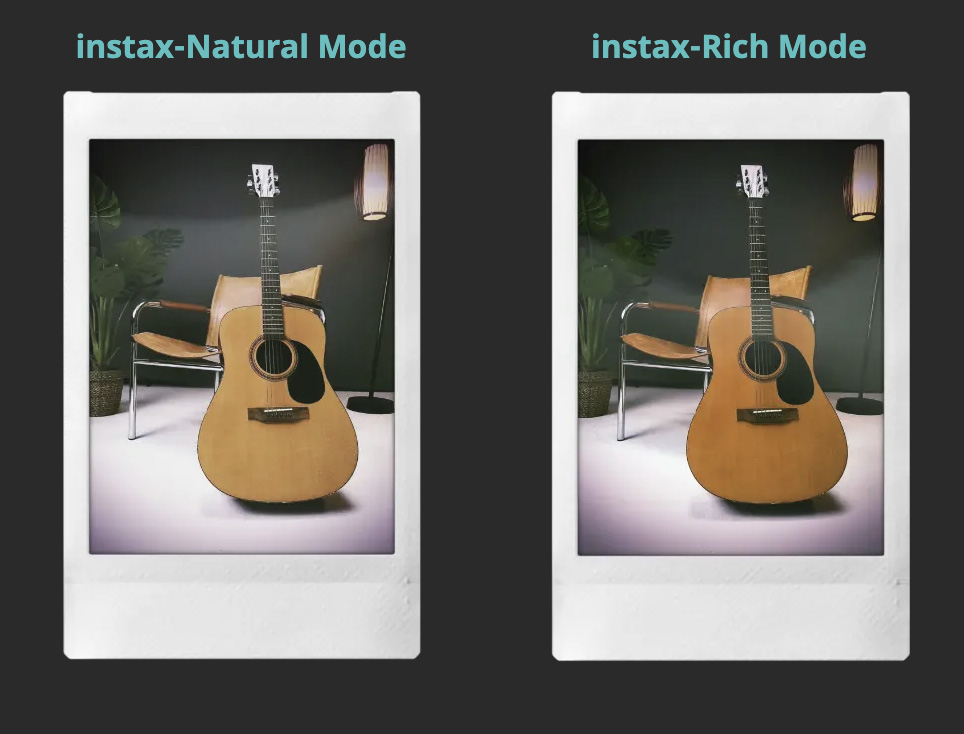 PRODUCT DESIGN
The instax mini Evo embodies a new generation of analog, combining a classic look with more ways to create:
Film Dial: Use the dial to switch film effects
Lens Dial:Use the dial to switch lens effects
Print Lever: Pull the lever to print
What's in the box?
1 x FUJIFILM Instax Mini Evo
Film Type
FUJIFILM instant film "instax mini" (sold separately)
Shooting

Image sensor

1/5-inch CMOS with primary color filter

Number of recorded pixels

2560 x 1920

Focus distance

f = 28 mm (35-mm film equivalent)

Aperture

F2.0

Auto focus

Single AF (with AF Illuminator)

Shooting distance

10 cm to ∞

Shooting sensitivity

ISO100 to 1600 (automatic switching)

Recording method

DCF compliant Exif Ver 2.3

Metering method

TTL 256 split metering, multi metering

White balance

Auto, Fine, Shade, Fluorescent 1, Fluorescent 2, Fluorescent 3, Incandescent

Image effects

10 lens effects, 10 film effects. Total of 100 effects by multiplying above
Shutter

Shutter speed

1/4 second to 1/8000 second (automatic switching)
Exposure Control

Exposure control

Program AE

Exposure compensation

−2.0 EV to +2.0 EV (1/3 EV step)
Flash

Auto flash / Forced flash / Suppressed flash

Shooting range with flash

Approximately 50 cm to 1.5 m
Power Supply

Power supply

Lithium ion battery (internal type: not removable)

Charging function

Built-in

Charging time

Approximately 2 to 3 hours
Other Features

Smartphone app linked functions

Smartphone image print function, remote shooting function, printed image transfer function, firmware upgrade function

Print function

Exposure Print pixel count

1600 x 600 dots (800 x 600 dots when printed from smartphone app)

Exposure resolution

25 dots / mm x 12.5 dots/ mm (638 x 318 dpi, 40 x 80 μm dot pitch)

12.5 dots / mm when printed from smartphone app (318 dpi, 80 μm dot pitch)

Exposure gradation

RGB gradation of 256 colors

Printable image format

JPEG images taken with this unit

Print output time

Approximately 16 seconds
* Plus 7 seconds when printed using instax-Rich Mode immediately after startup.

Print function

Images in the internal memory and images in the memory card can be printed

Reprint

Reprint is possible for images stored in print history (up to 50)
Dimensions

87 mm x 122.9 mm x 36 mm (excluding projecting parts)
Screen
3.0-inch TFT color LCD screen Pixel count: Approximately 460,000 dots
Self Timer
Approximately 2 seconds / approximately 10 seconds
Memory Card Type
microSD/microSDHC memory card