Product Highlights
Premium G Master Series wide angle zoom lens and smooth bokeh
Two XA (extreme aspherical) elements for outstanding resolution
Circular 11-blade aperture for beautiful defocus effects
Sony Nano AR Coating to eliminate flare and ghosting
Dust and moisture resistant design1
$2,831.00

(inc GST)
Regular price: $3,431.00
Explore the world in wide-angle detail
G Master performance in a wide-angle F2.8 16-35mm zoom offers a wealth of opportunities to capture subjects in creative new ways. No matter what zoom setting or focus distance you shoot at, this lens delivers consistently superb resolution from corner-to-corner, with stunning background bokeh when required. A compact, lightweight design makes it manageable for active shooting.
High corner-to-corner resolution
Uncompromised optical design achieves extremely high resolution and contrast. Landscapes, architecture, interiors, and other expansive subjects are captured with outstanding corner-to-corner sharpness. Aspherical elements minimize distortion, while ED (Extra-low Dispersion) glass elements effectively control chromatic aberration.
Gorgeous background bokeh
Shooting up close at F2.8 can produce some extraordinary background bokeh. Use this capability to shoot portraits, for example, with dynamic, painterly backgrounds consisting of smooth, expressive bokeh that makes the subject stand out clearly.
Resolution and bokeh raised to new heights
This lens features two Sony XA (extreme aspherical) elements with 0.01 micron surface precision. Distortion that tends to occur in wide-angle zoom lenses is meticulously controlled, as are astigmatism and field curvature. Unattractive onion-ring bokeh is effectively suppressed by XA (extreme aspherical) elements so that smooth, beautiful bokeh is achieved in out-of-focus areas.
Light and compact for high mobility
Class-leading size and weight reductions have been achieved while maintaining outstanding optical performance. This lens is an ideal match for compact E-mount bodies, providing a portable, manageable system that's easy to take along on hiking or mountaineering photo excursions.
Lens Expert Tips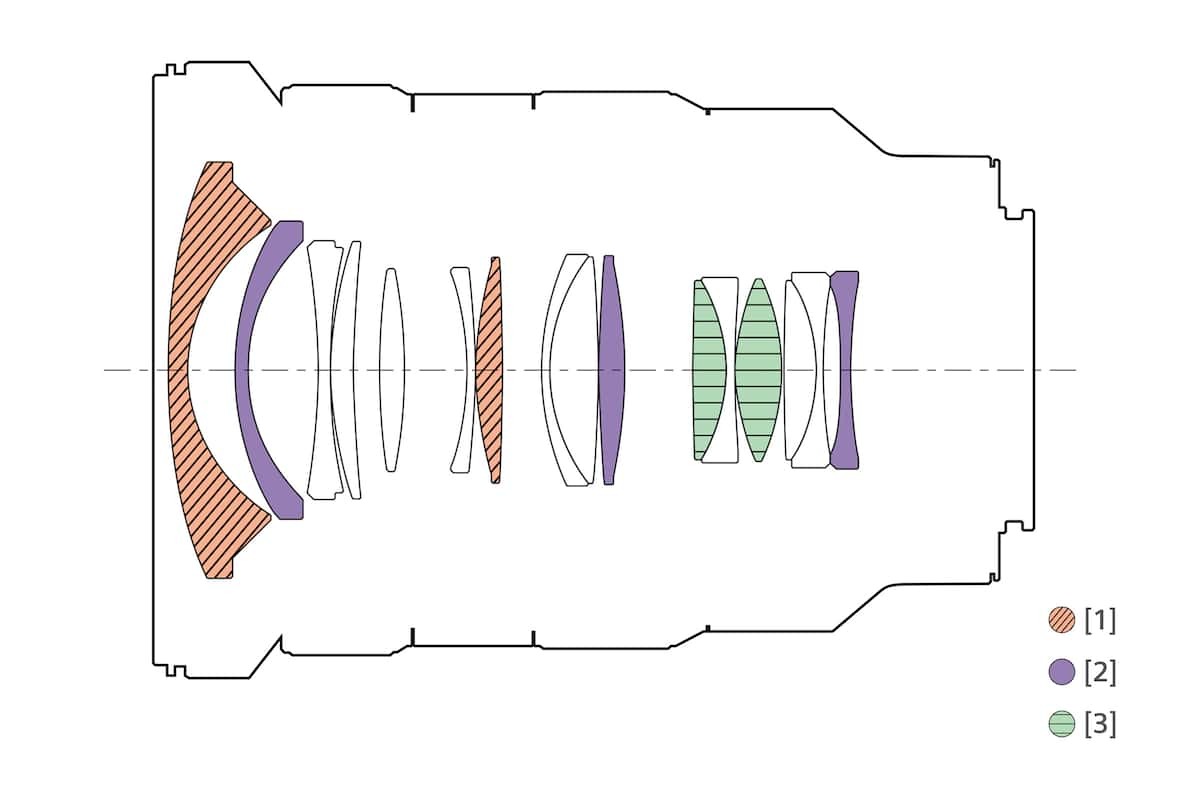 Lens Configuration
G Master series lenses take imaging and expression to previously unattainable levels with a stunning blend of extremely high resolution and softly dissolving background bokeh

[1] XA (extreme aspherical) lens 
[2] Aspherical lens 
[3] ED (extra-low dispersion) glass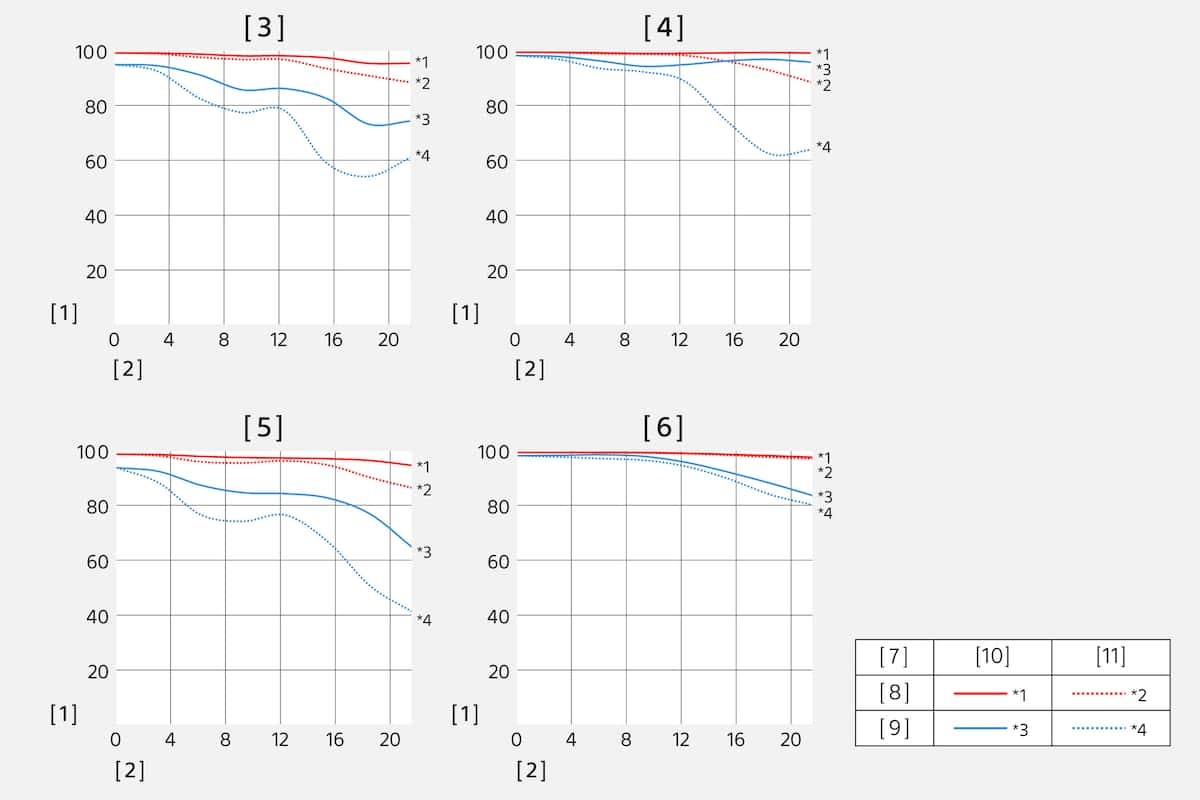 MTF Chart
MTF (Modulation Transfer Function) describes how well a lens can reproduce fine details, measured as the degree of contrast achieved between finely spaced lines.

[1] Contrast (%)
[2] Distance from optical center of lens (mm) 
[3] At 16 mm / Max. aperture 
[4] At 16 mm / F8 aperture 
[5] At 35 mm / Max. aperture 
[6] At 35 mm / F8 aperture 
[7] Spatial frequency 
[8] 10 line pairs / mm 
[9] 30 line pairs / mm 
[10] Radial values 
[11] Tangential values
Lens Control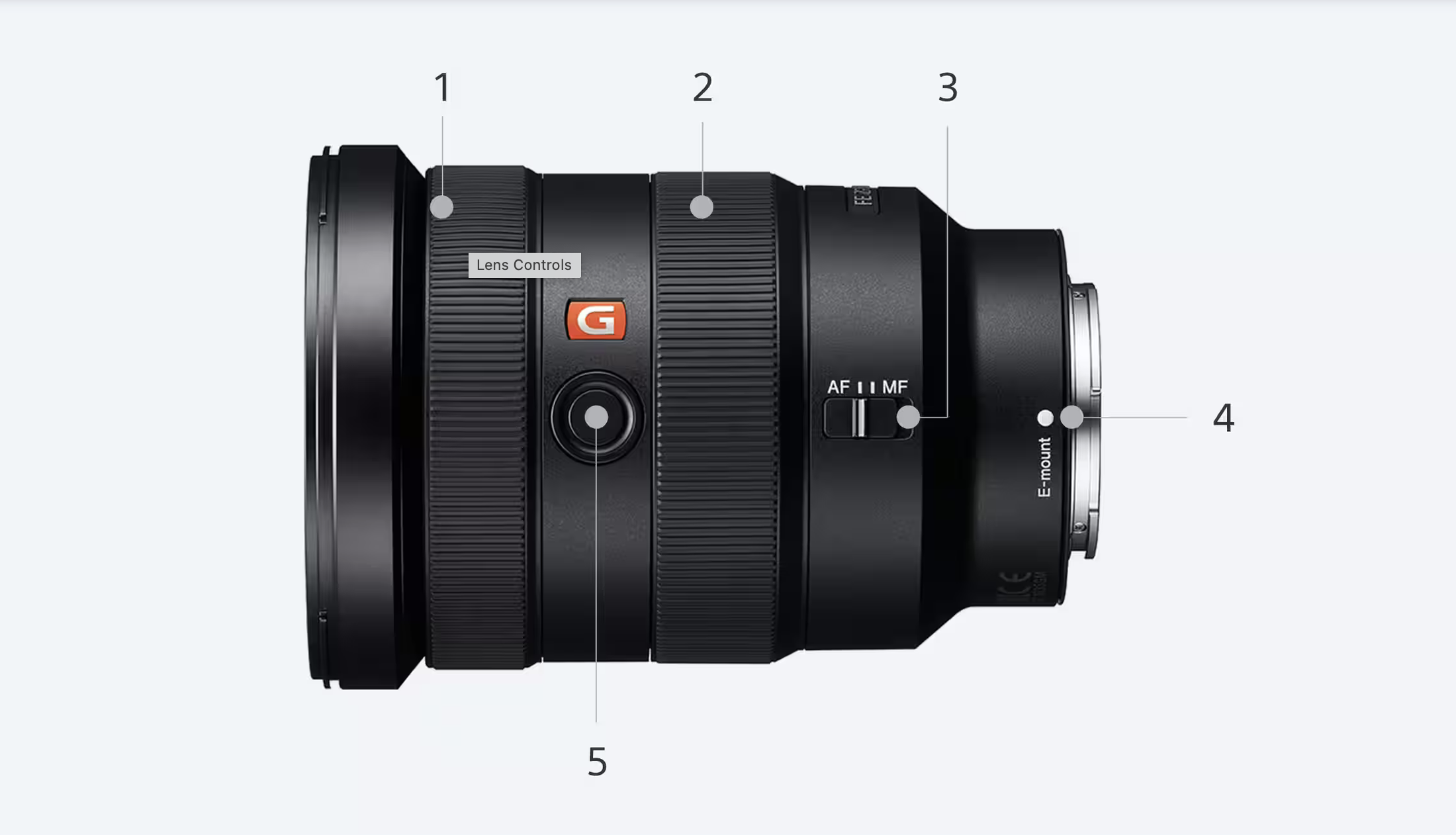 1. Focusing ring
2. Zooming ring
3. Focus mode switch
4. Mounting index
5. Focus hold button.

1 Not guaranteed to be 100% dust and moisture proof.

What's in the box?
1 x Sony FE 16-35mm f/2.8 GM
1 x Hood (ALC-SH149)
1 x Lens Front Cap (ALC-F82S)
1 x Lens Rear Cap (ALC-R1EM)
1 x Case
Focal Length
16-35mm / 24-52.5mm (35mm / APS-C)
Lens Elements Groups
13-16
Angle Of View

107°-63° (35mm) / 83°-44° 1 (APS-C)
Minimum Focusing Distance
0.28m
Max. Magnification (x)
0.19
Image Stabilization
Body-Integrated (SteadyShot)
Lens Hood
Petal Shape, Bayonet Type
Dimensions
88.5mm (D) x 121.6mm (L)
Footnotes

1 With interchangeable-lens digital camera incorporating APS-C type image sensors.