Product Highlights
Note
Firmware must be updated before use. Please click here for firmware update instruction.
Special discount to be revealed upon check out!


Free Demo
We offer a free, non-obligatory demonstration on Kandao Meeting Pro, both online or on-site. Simply click here to fill up your details and our team will contact you within 2 working days.
Meeting Perfection 



Push Past the Limitation with Four-in-One Design
Kandao Meeting Pro is an AI-based 360° video conferencing device, which equipped with 360° lens, Omni-direcitonal audio system. Hi-Fi speaker, and built-in android system, Kandao Meeting Pro is designed to be four-in-one for being the most powerful one. 
360° Camera
Omni-Directional Mics
Hi-Fi Speaker 
Intelligent AI Algorithm


No Need for External Operation System
Kandao Meeting Pro can be used as an independent video conferencing terminal. External computer is no longer needed, conference can be easily started by connecting to a screen through HDMI.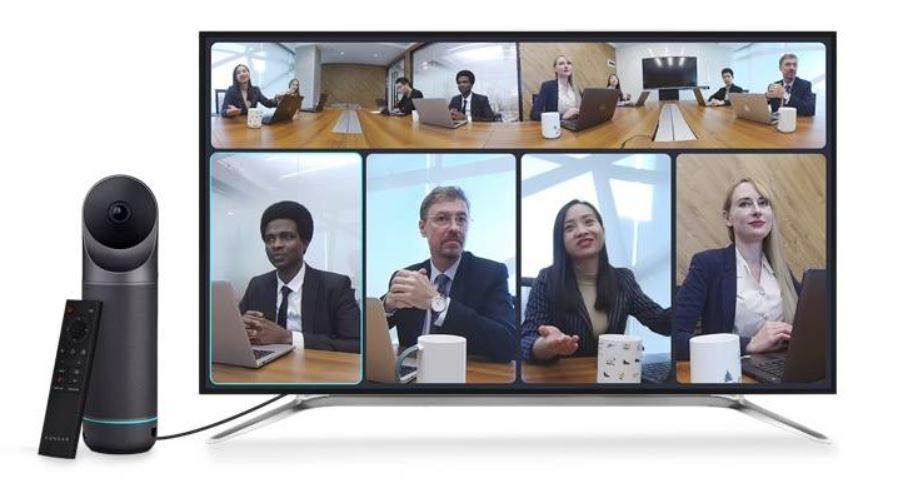 Powerful as System, Convenient when updated

Having built-in Android system with perfect user interface, the video conferencing software can be installed and run directly on Kandao Meeting Pro.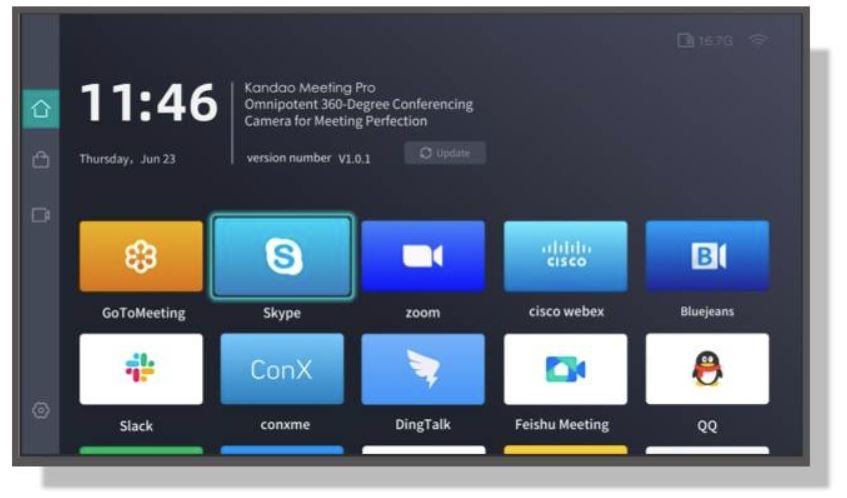 Easily Plug and Use with Different Modes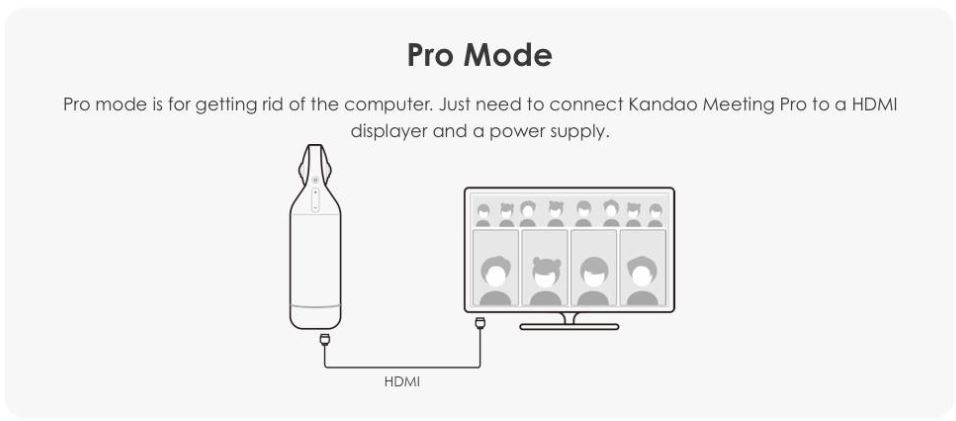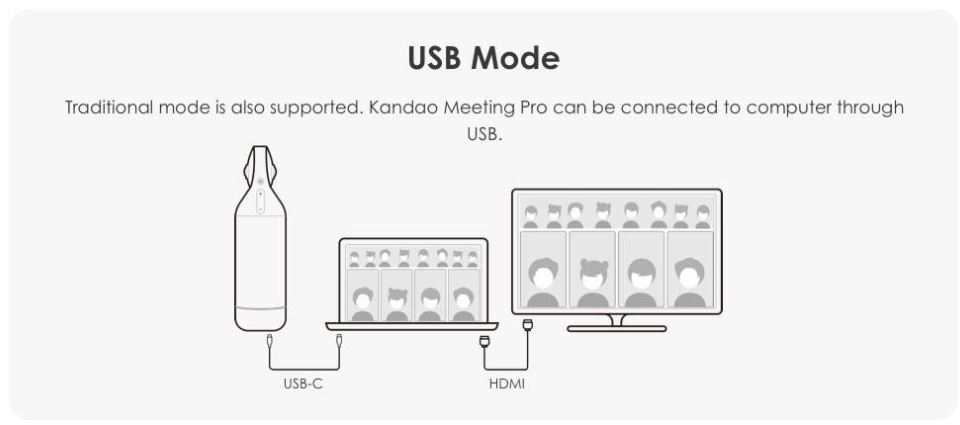 360° Meeting without Blind Spot
Detailed image processing with 360 degree image capture, seamless optical flow stitching, noise reduction, wide dynamic range, exposure compensation, and automatic white balance. 

Upgraded Omni-directional Audio System
8 microphones are improved to achieve finest audio quality, which can cover range to 5.5 meters radius. Collect sound with beamforming, echo cancellation, noise reduction, and howling suppression

Unique Hi-Fi Speaker 
Output louder, sound clearer, more focus, to allow a better communication


Two-time Larger Coverage Area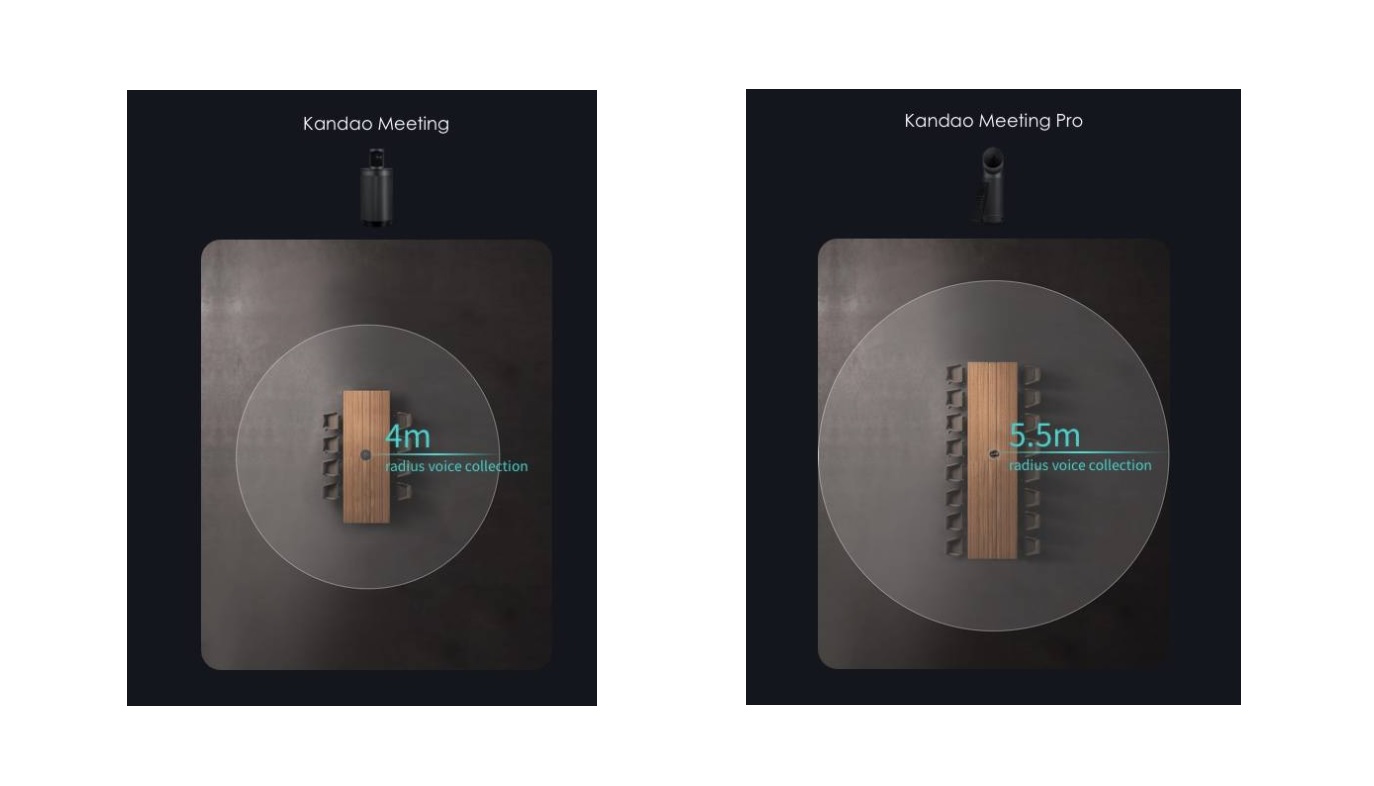 Kandao Meeting collects 4m radius voice while Kandao Meeting Pro collects 5.5m radius voice.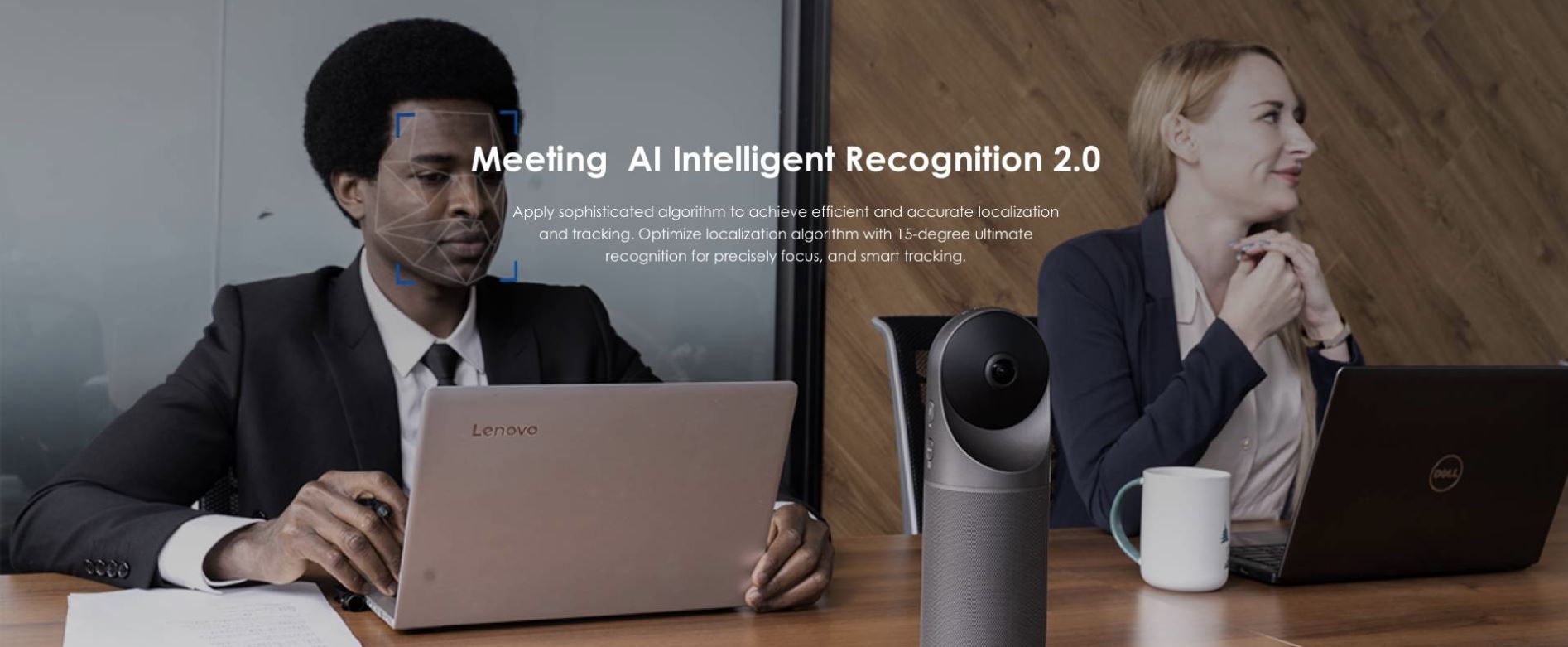 Speaker can always be in Center 
According to AI face recognition and sound localization, Kandao Meeting Pro bring immersive meeting experience for participants by automatically focusing and emphasizing the speaking person. 

Discussion Mode
The upper space is the panorama with all of the participants, while the below space is for highlighting the speaking person and showing most of the participants in a clearer way.



Stronger Compatibility for More Possibilities
Support both 1080P and 720P output, while provide H.264 and MJPEG as encoding formats. Users can switch flexibly when use different video conferencing platform. 




Simple Upgrading Process
Get update notification on Kandao MEeting Pro, and directly download and install on it.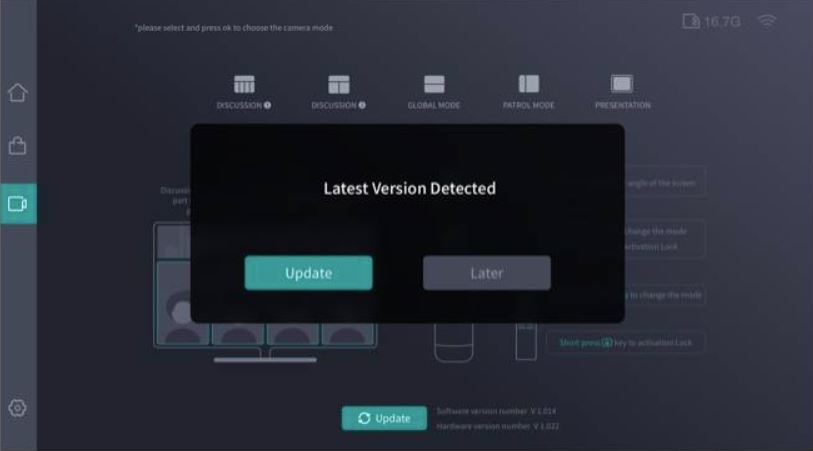 Excellent connectivity and interaction 
Equipped with Wi-Fi, Ethernet LAN Port, USB, and HDMI, KAndao Meeting Pro is flexible enough to connect with a large variety of conferencing equipment. 




USB A for Connecting with External Equipment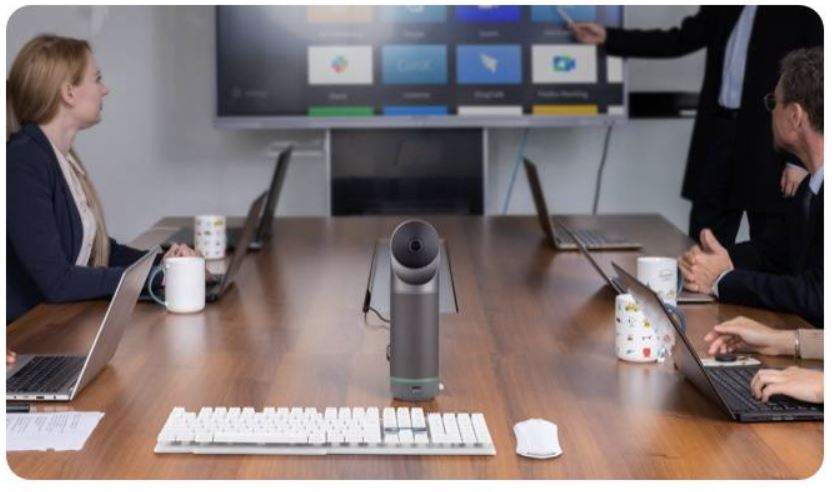 Convenient to Carry for Business Trip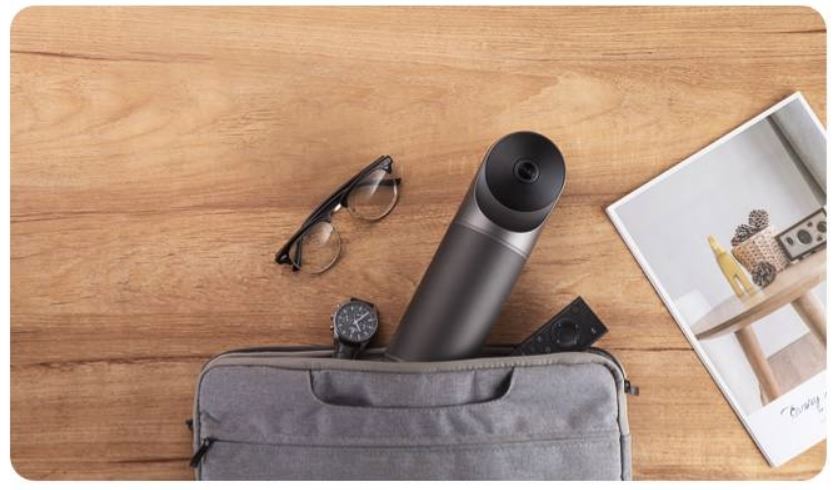 Elegant and Compact Appearance
No more bulky hardware, Kandao Meeting Pro is designed to be protable, so that everyone can set it up to run meeting anywhere. The built-in Android system allows users to get rid of computer and directly connect to the display screen, which greatly improve the efficiency.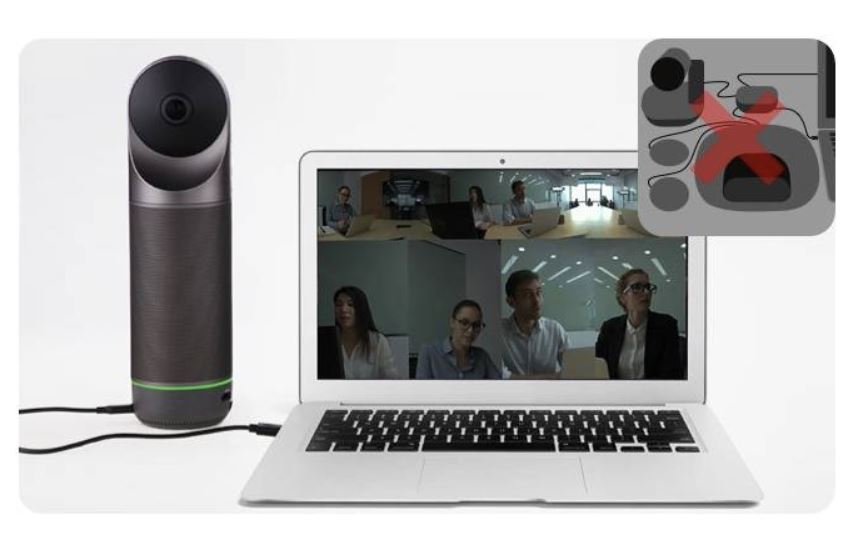 Support Major Video Conferencing Systems
Most of the common conferencing software are supported, and can be installed and switched easily. Strong compatibility for flexible operation. 

Awards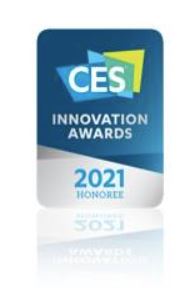 Note: Firmware must be updated before use. Please click here for firmware update instruction. 
What's in the box?
1 x Kandao Meeting Pro
1 x Cover
1 x Storage bag
1 x Remote control
1 Adapter
1 x USB-C to USB-c (3m)
1 x USB-C to USB-A (1.5m)
1x Quick Guide
1 x Warranty card
Resolution
1920 x 1080 @ 30 fps, 1280 x 720@30fps
Resolution Of Single Lens
MJPEG / H.264
Signal Light Ring Light X 2
Red, Blue, Green
Buttons
x 5 (+Volume, -Volume, Mute, On/Off, Switch Mode)
Microphone
x 8 (8 Built-in Microphones, PCM (16 bit/Single Track / 16KHz), 5.5m r2)
Usb

USB Type C Connection x 2 (USB 2.0)
1. Type C OUT for transferring media and files
2. Type C IN for Power Supply

USB A Connection
For External Equipment (Mouse and Keyboard)
Hdmi Output
For Audio, Video and displaying system page
Ethernet Connection Rj45
100m Ethernet Port, Wired Network Connection
Wifi
5G band 1+2.4G, Support STA Mode
SD Card
Support External SD Card
Warranty
Limited 1 Year Warranty