Aputure Light Storm 1200D Pro
Product Highlights
83,100 lux @ 3m with Hyper Reflector (Narrow)
22,400 lux @ 3m with Hyper Reflector (Medium)
13,010 lux @ 3m with Hyper Reflector (Wide)
1200W Output Daylight Bowens Mount Point Source LED
1440W Max Power Draw
5600K Daylight CCT
CRI ≥96 TLCI ≥98, CQS ≥95, SSI (D56) ≥73
Weather-Resistant: IP54 Certified
Supports Dual 48V/15A DC Inputs (3-pin XLR),Including Battery Power Stations & Block Batteries
Includes Rolling Case & Reflector Carrying Case
THERE'S A STORM COMING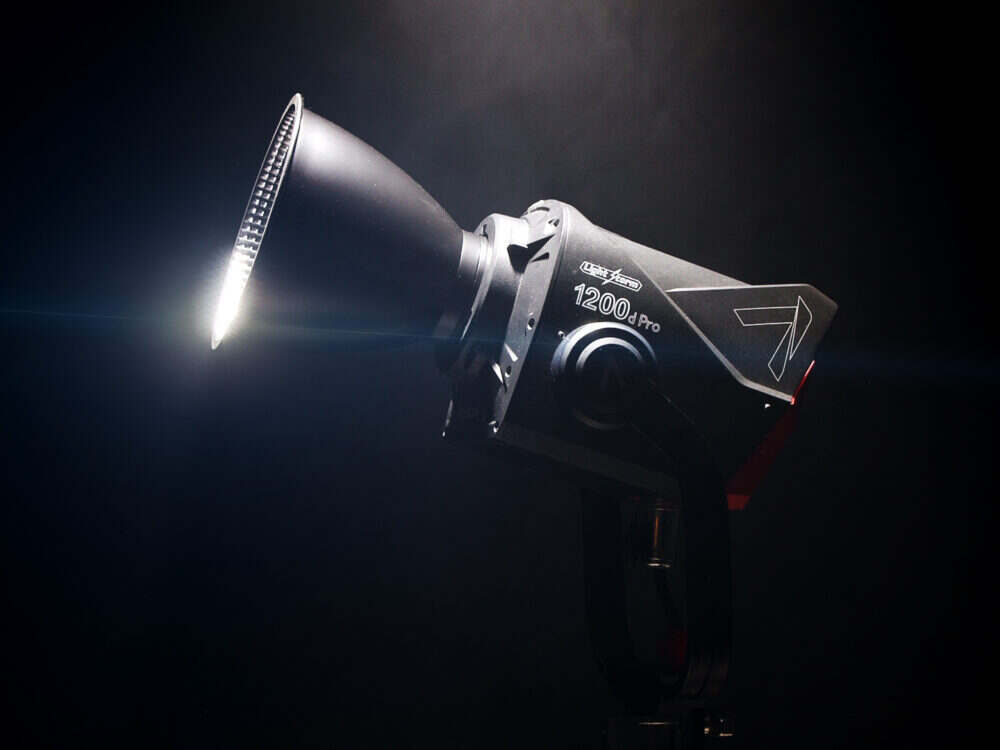 The Light Storm 1200d Pro is the flagship Light Storm product and the brightest fixture in the Aputure and Light Storm lineup. It utilizes a 1200W Daylight COB chipset to compete on the same level as industry-standard HMI Lights, with a staggering 83,100+ lux output at 3 meters with the Hyper Reflector (Narrow).
THE BRIGHTEST BOWENS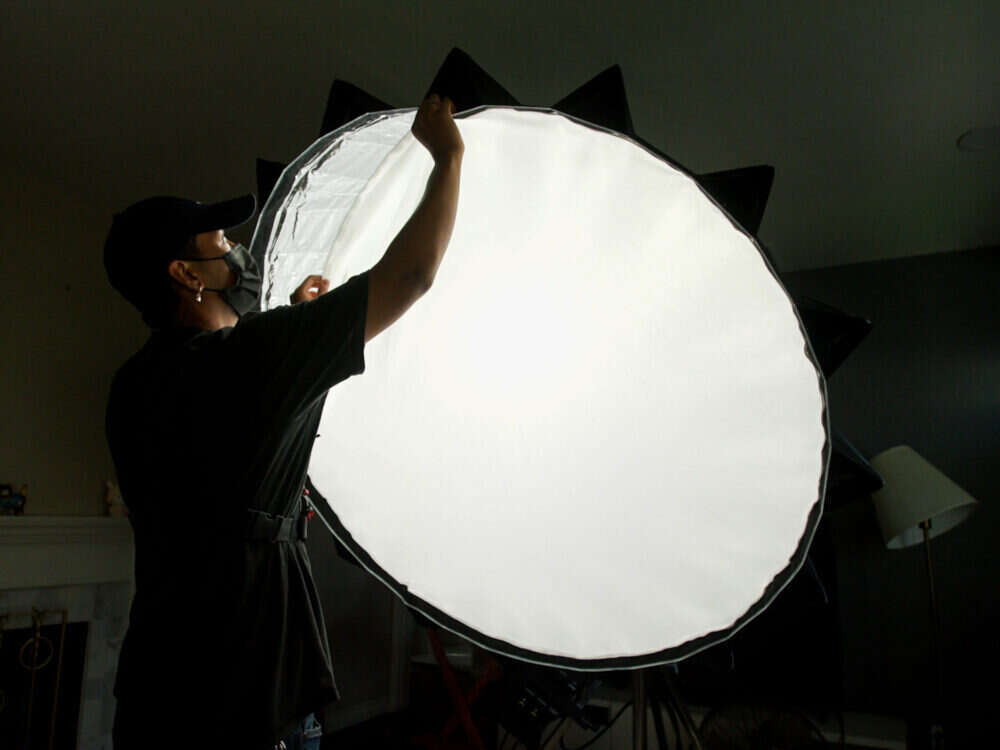 The LS 1200d Pro is the first and only Bowens Mount LED on the market with a 1200W COB, making it the highest output LED fixture compatible with Bowens Mount modifiers like Aputure Light Dome soft boxes and Lanterns. The LS 1200d Pro can also be accompanied by Bowens Mount soft boxes made by manufacturers such as DoPchoice and Chimera Lighting.
3 HYPER REFLECTORS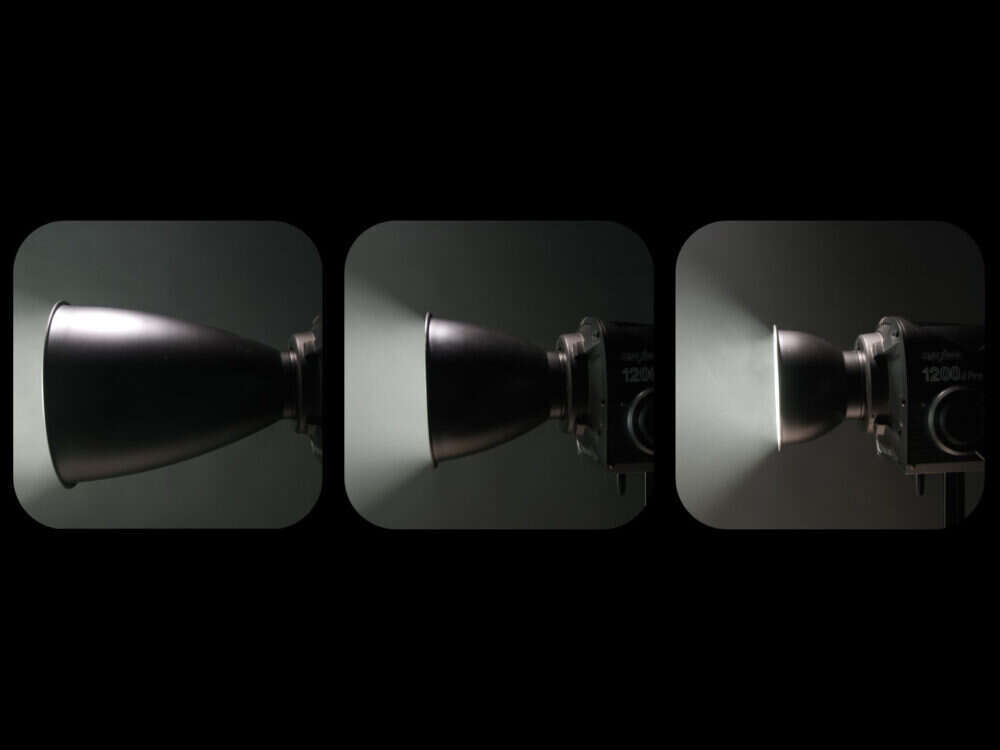 To adapt the output and beam angle of the Light Storm 1200d Pro to your shooting scenario, the 1200d Pro kit includes 3 different Hyper Reflectors optimized for the size of it's COB.
IP54 WEATHER-RESISTANT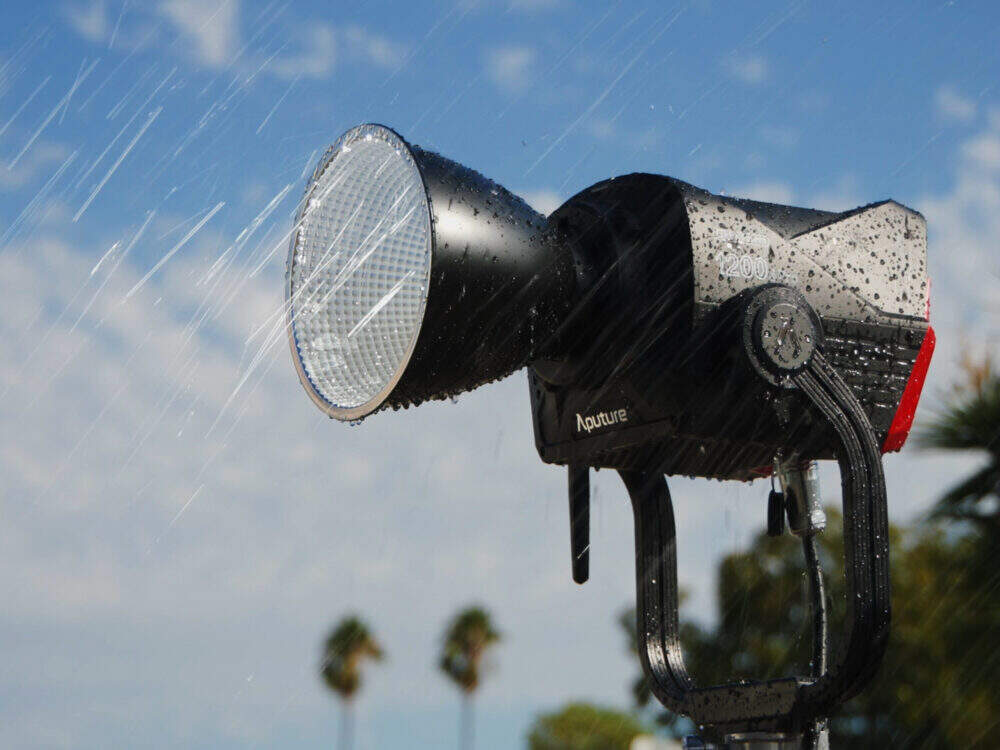 The LS 1200d Pro joins the Light Storm Pro series, featuring an IP54 weather-resistant design. Using waterproof fans, sealed internal structures, rubber caps for all ports, and weatherproof connectors, the LS 1200d Pro can withstand challenging inclement weather environments.
0.1% STEPLESS DIMMING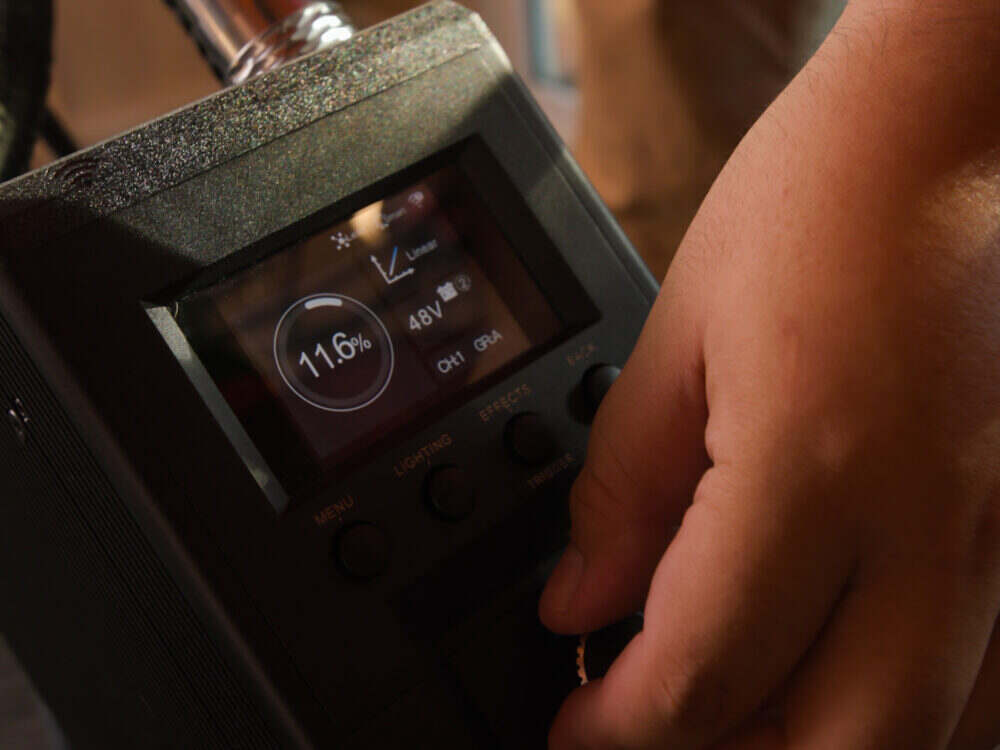 As a professional Light Storm series fixture the 1200d Pro features enhanced, stepless dimming, as well as light control in 0.1% increments, ensuring that you get the exact amount of light that you need.
PROFESSIONAL CONTROLS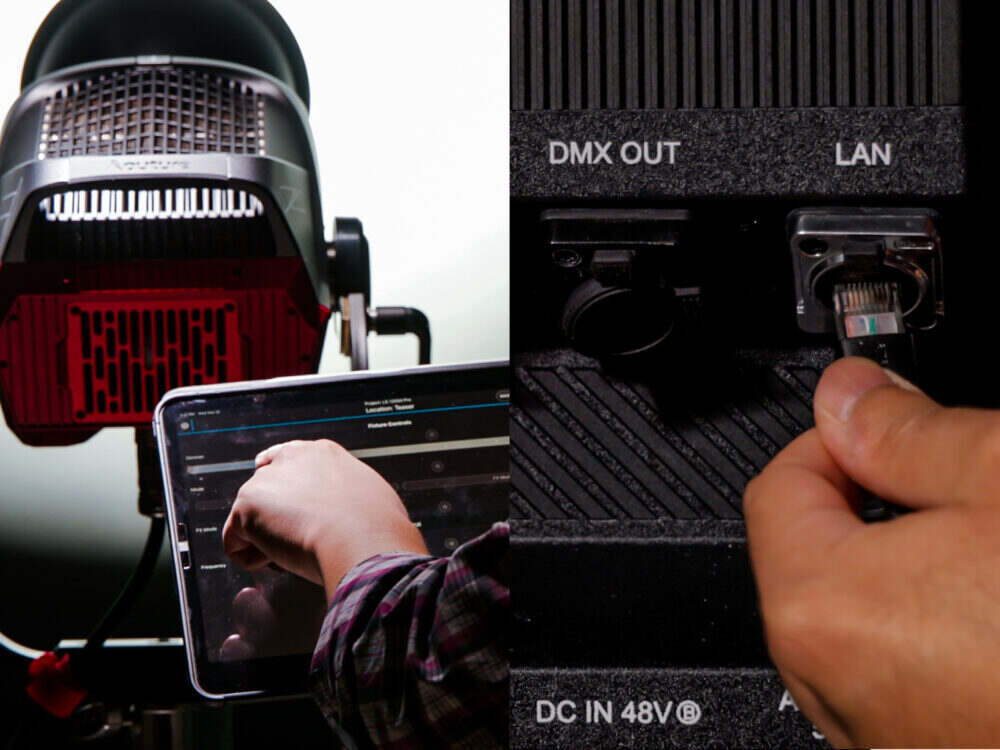 Designed for professional lighting technicians, the Light Storm 1200d Pro integrates sACN and Art-net via a durable etherCON connector, as well as wireless Lumenradio CRMX, in addition to its responsive on-board controls, DMX512 5-Pin XLR In and Out, and Sidus Link® app compatibility, to seamlessly integrate into existing lighting workflows.
SIDUS LINK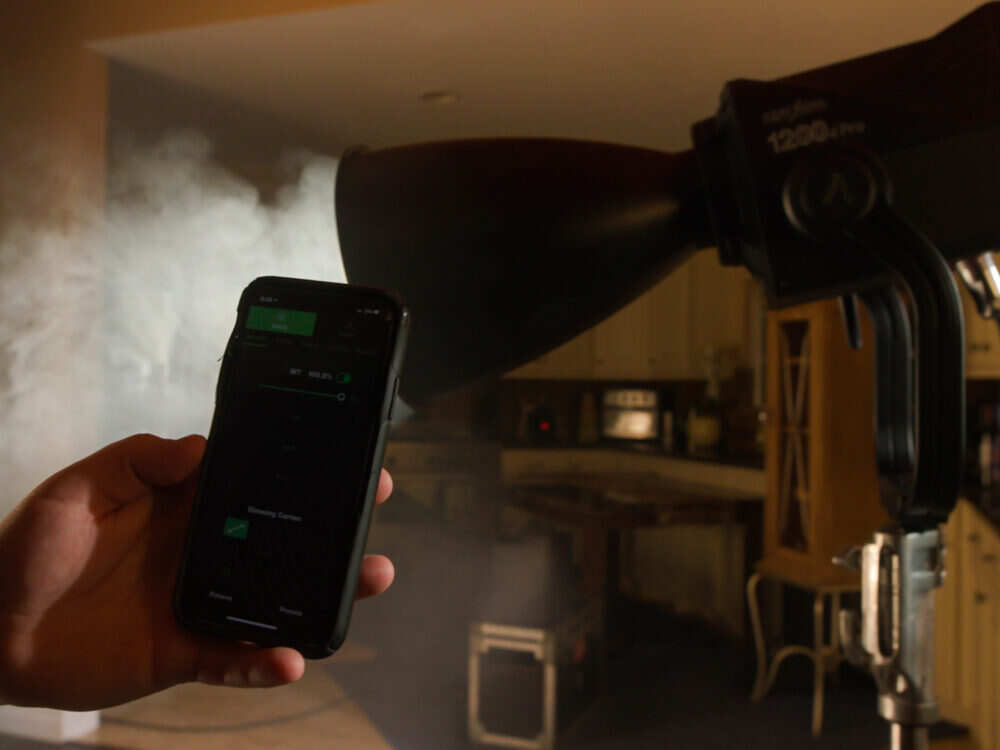 Sidus Mesh integration allows users to control the 1200d Pro from nearly any smartphone or tablet with the Sidus Link mobile app up to 400 meters away with the addition of other fixtures, including the Aputure LS 600d Pro, LS 600x Pro, Accent B7c, MC, and Nova P600c.
COLOR ACCURATE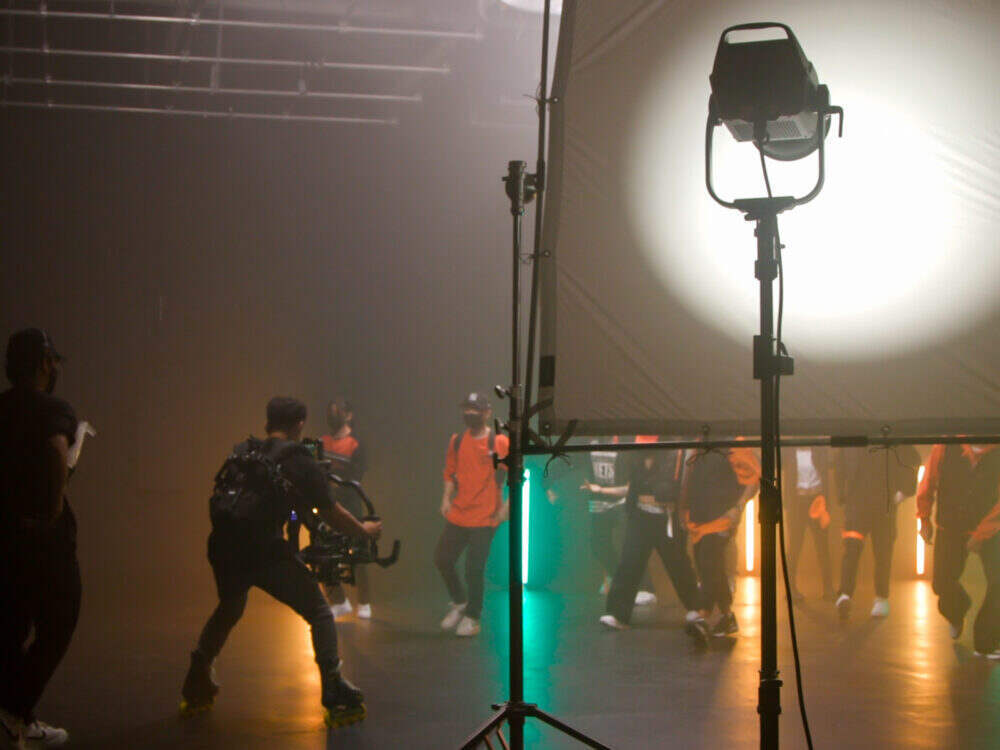 With exceptional color accuracy measurements of CRI ≥96, TLCI ≥98, CQS≥95, and SSI (D56) ≥73, the 1200d Pro provides consistently accurate light quality for all filmmakers.
REDESIGNED CONTROL BOX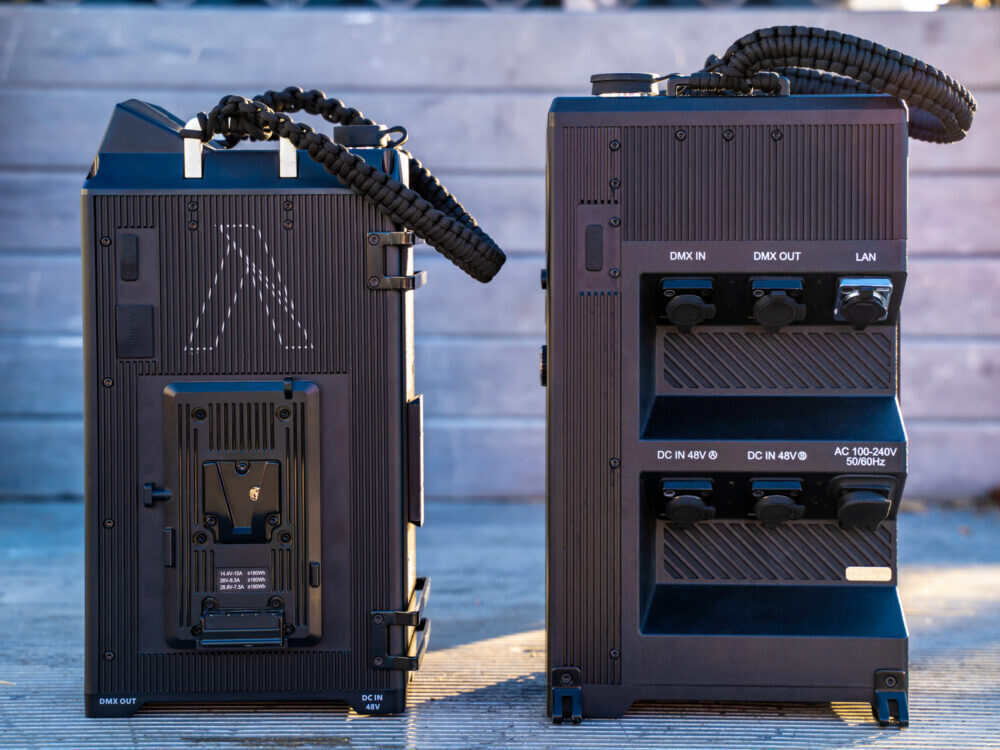 As the flagship Light Storm product, the LS 1200d Pro also features a new control box design. The new control box has DMX512 In and Out ports, an industry-standard etherCON connector, two 48V/15A 3-pin XLR Inputs, and an AC Input that are all housed on the side of the fixture in an orientation that maximizes flexibility while minimizing damage. This allows the control box to be positioned upright on its feet, so it can be set down on set seamlessly. The control box also features two Lightning Clamps for different orientations on your light stand.
POWER SOLUTIONS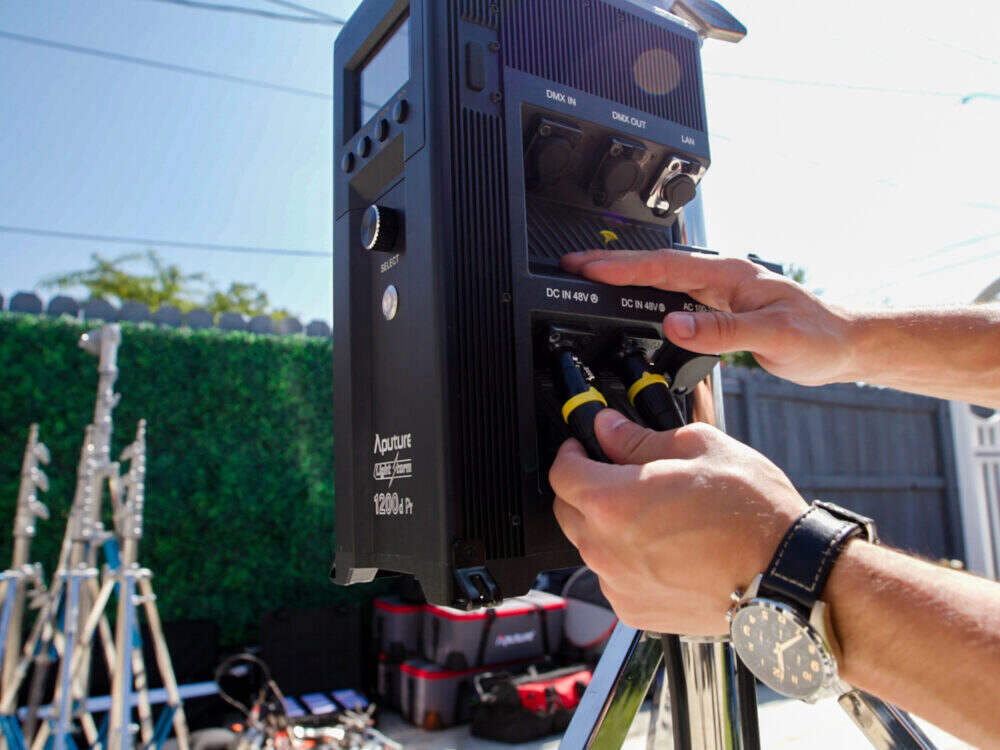 As a 1200W COB LED with a maximum power draw of 1440W, the Light Storm 1200d Pro is high-powered fixture that can compete on the same level as HMIs, while still featuring the ability to be operated using DC battery solutions. The 1200d Pro's control box has two 48V/15A (720W) DC Inputs. Providing power to one input will operate the 1200d Pro at half power, and providing sufficient power to both inputs will operate the fixture at full output. With its 1440W maximum power draw, the LS 1200d Pro can also easily be powered using a Honda 2000W generator compared to comparable HMIs that might overload the system.
BUILT-IN LIGHTING FX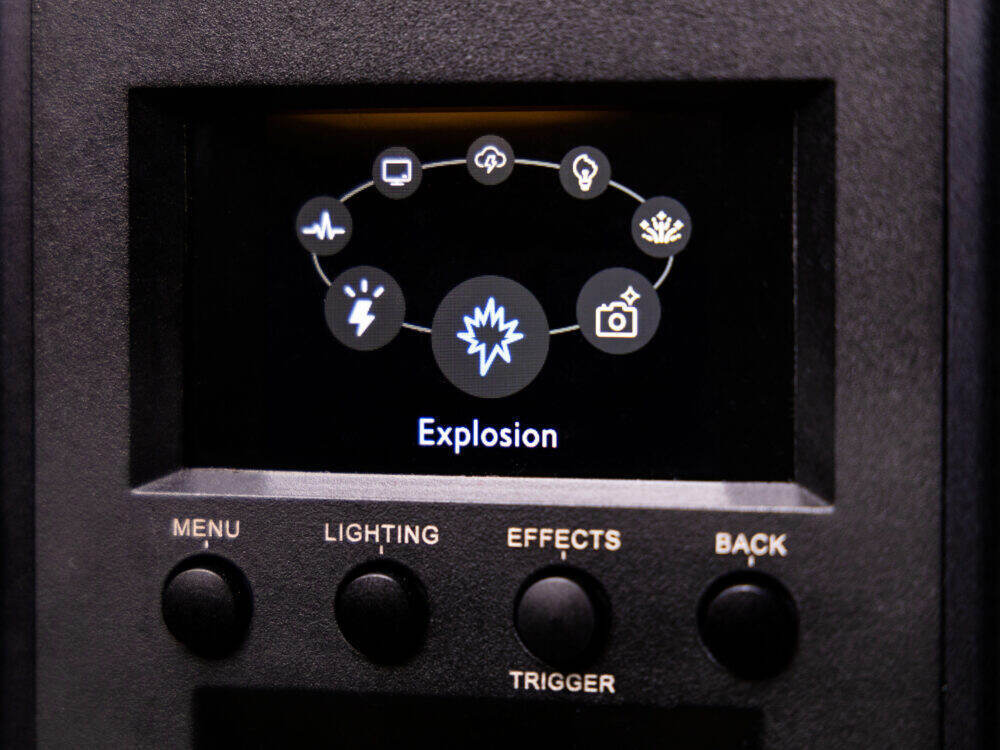 The LS 1200d Pro can utilize 8 different built-in light effects: "Paparazzi", "Fireworks", "Lightning", "Faulty Bulb", "TV", "Pulsing", "Strobe", and "Explosion". The LS 1200d Pro also has the potential to expand further into the SidusPro FX ecosystem.
ADVANCED UI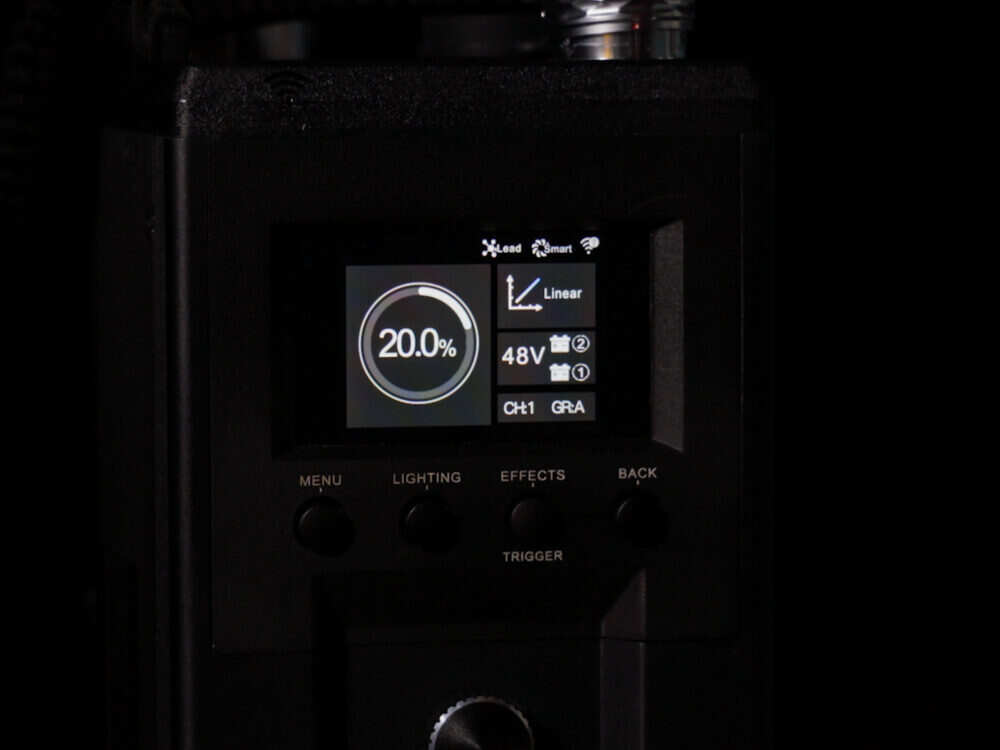 The LS 1200d Pro features a detailed LCD screen interface that, including a revamped professional UI that displays important information in an intuitive way, including easy-to-read intensity and color information.
DUAL CARRYING CASES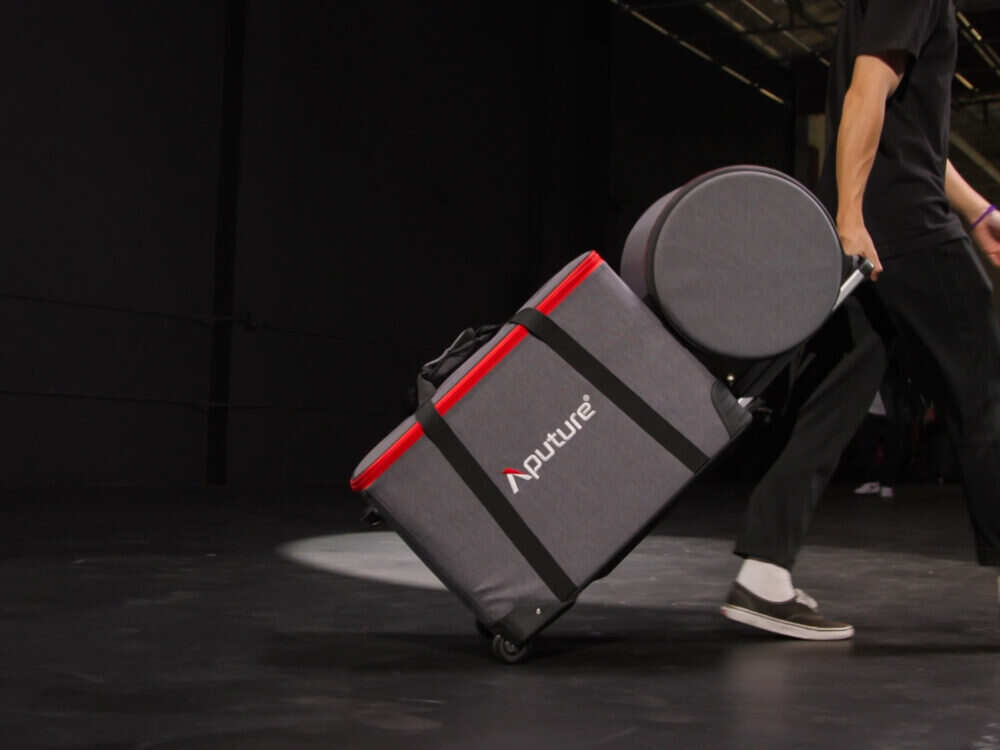 Housing the 1200d Pro's lamp head, redesigned control box, and 3 Hyper Reflectors, the 1200d Pro is accompanied by a rolling lamp case, and reflector carrying case, making transporting the fixture to and from set a breeze.
OUR WORKHORSE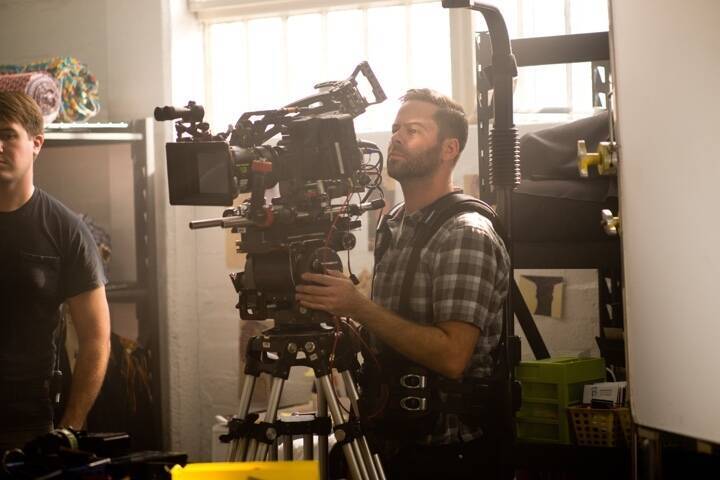 "I used the Aputure LS 1200d Pro on two projects over the course of a week and it's a great, versatile light. For both projects we didnt have a generator, so low power draw with high output was important. In the first scenario we used it direct on talent through the 1st floor window, or bounced it into a mirror towards the subject or background. In the second scenario we were shooting 12 stories up in a loft and the 1200d was our workhorse, bouncing it off an 8x8 or using it again with the fresnel for a harder source." - Eric Koretz, Cinematographer
BECAME THE SUN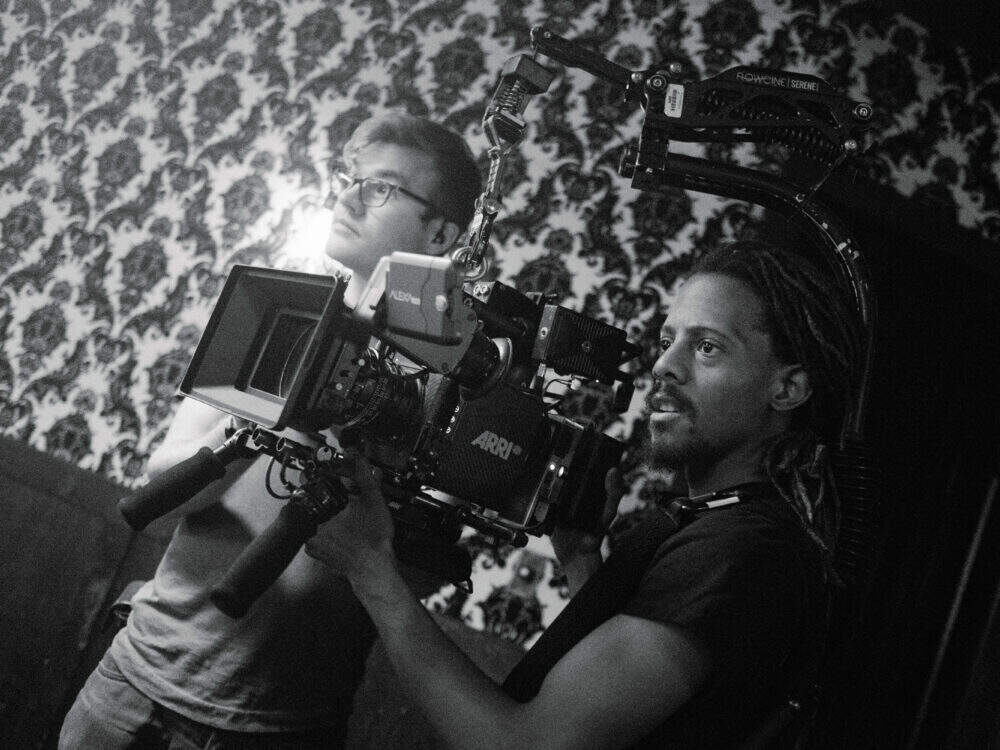 "...we wanted some sort of backlight a lot of times, and also oriented a lot of scenes to the sun. So in the absence of the sun, the 1200d became the light we'd use for that." - Bongani Mlambo, Cinematographer - shooting We're All Going to Die (dir. Freddie Wong, Matt Arnold)
HMI REPLACEMENT

"The 1200D has now replaced all my 1.8k HMIs, I'm never looking back." - Matt Plaxco, Cinematographer
What's in the box?
1 x LS 1200d Pro Lamp Head
1 x LS 1200d Pro Control Box
1 x LS 1200 Series Hyper Reflector (Medium)
1 x LS 1200 Series 7-Pin Weatherproof Head Cable (7.5m)
1 x NeutrikpowerCONTRUE1 TOP AC Power Cable (6m)
1 x Lightning Clamp
1 x LS 1200d Pro Rolling Case
1 x LS 1200 Series Hyper Reflector (Narrow)
1 x LS 1200 Series Hyper Reflector (Wide)
1 x LS 1200 Series Reflector Carrying Case
Beam Angle
66° (No Accessories); 15° (BM1215 Reflector (Narrow)); 30° (BM1230 Reflector (Medium)); 45° (BM1245 Reflector (Wide))
Dimming
0-100%; Linear, Exponential, Logarithmic, S-Curve
Operating Temperature
-20°C ~ 45°C / -4°F ~ 113°F
Operating Voltage
100V~240V, 50Hz/60Hz
Fixture Mount
28mm / 1.125in (Junior Pin)
Remote Control
On-board, Sidus Link App, DMX512, Art-net & sACN via etherCON, LumenRadio CRMX
Power Input
2x 48V 3-Pin XLR DC Inputs (720W Each)
Photometrics

Bare Bulb

3M 6,380 lux / 598 fc ; 5M 2,802 lux / 263 fc ; 7M 1,538 lux / 144 fc ; 9M 964 lux / 90 fc

BM1215 Bowens Mount Hyper Reflector (Narrow)

3M 83,100 lux / 7,788 fc ; 5M 28,340 lux / 2,656 fc ; 7M 15,200 lux / 1,425 fc ; 9M 8,580 lux / 804 fc

BM1230 Bowens Mount Hyper Reflector (Medium)

3M 22,400 lux / 2,099 fc ; 5M 8,200 lux / 769 fc ; 7M 4,660 lux / 437 fc ; 9M 2,880 lux / 270 fc

BM1245 Bowens Mount Hyper Reflector (Wide)

3M 13,010 lux / 1,364 fc ; 5M 4,800 lux / 635 fc ; 7M 2,706 lux / 264 fc ; 9M 1,775 lux / 152 fc

F10 Fresnel (Flood)

3M 14,470 lux / 1,344 fc ; 5M 5,590 lux / 519 fc ; 7M 2,840 lux / 264 fc ; 9M 1,920 lux / 178 fc

F10 Fresnel (Spot)

3M 32,410 lux / 3,010 fc ; 5M 12,090 lux / 1,123 fc ; 7M 6,160 lux / 572 fc ; 9M 3,940 lux / 366 fc
Dimensions

Lamp Head w/o Yoke

33.23 x 23.16 x 21.63cm / 13.08 x 9.11 x 8.51in

Lamp Head w/ Yoke

33.23 x 33.12 x 54.35cm / 13.08 x 13.03 x 21.40in

Control Box

19.99 x 16.10 x 33.60cm / 7.87 x 6.33 x 13.22in

Lightning Clamp

10.35 x 8.74 x 12.5cm/ 4.07 x 3.44 x 4.92in

Reflector Case

41 x 40 x 40cm / 16.14 x 15.75 x 15.75in

Rolling Case

67 x 48 x 48cm / 26.38 x 18.9 x 18.9in
Weight

Lamp Head w/o Yoke

7.57kg / 16.69lbs

Lamp Head w/ Yoke

8.95kg / 19.73lbs

Control Box

5.80kg / 12.79lbs

Lightning Clamp

670g / 1.48lbs

Reflector Case (Filled)

4.15kg / 9.15lbs

Rolling Case (Filled)

27.25kg / 60.07lbs