Sensor cleaning swabs Vswabs MXD-100 Green 1.3x / 20 mm 12 per pack with bonus CurVswab and Corner Swabs
Product Highlights
The patented mini-channels, with contour, provide an even saturation of the sensor cleaning swab surface
Patented V shape of the sensor cleaning swab results best maneuverability inside digital camera chamber
Unique fabric folding system are tailored for cleaning a delicate sensor without leaving streaks, pooling or abrasions
The MXD-100 Green Corner Swabs™ have been tailored specifically to remove dust build up in those hard to reach areas
Compatible with VDust Plus™, Smear Away™, Sensor Clean™, CMOS Clean™ sensor cleaning liquid solutions
CurVswab™ handle creates an optimal surface contact between the swab fabric and sensor preventing streak lines associated with the regular swab handle
These sensor cleaning swabs, with their unique fabric folding system, are specially tailored for cleaning your delicate sensor without leaving streaks, pooling or abrasions. The mini-channels, with contour, provide an even saturation of the swab's paddles surface while preventing pooling and vertical flow at the edge. This reduces streaks associated with traditional flat surface swabs. The mini-channels also provide the extra reservoir to absorb the excessive liquid and prolonging the moisture life of the swab during the sensor cleaning process. Compatible with Sensor Clean, Smear Away, CMOS Clean or VDust Plus sensor cleaning liquids.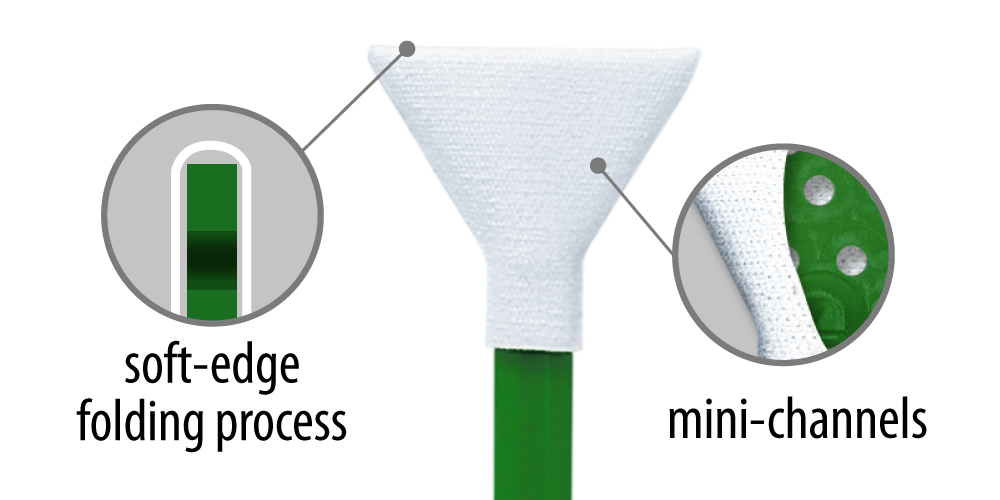 | | |
| --- | --- |
| | The MXD-100 Green Corner Swabs have been tailored specifically to remove dust build up in those hard to reach areas. |
CurVswab™ handle creates an optimal surface contact between the swab fabric and sensor preventing streak lines associated with the regular swab handle. By using CurVswab™ handle, edge to edge cleaning becomes easier. With the firm grip on the swab handle sensor cleaning process is more uniform similar in technique to that of a more experience user. Thus, the quality difference between professional and regular sensor cleaning process disappears. Any beginner can become Pro simply by using CurVswab™ handle.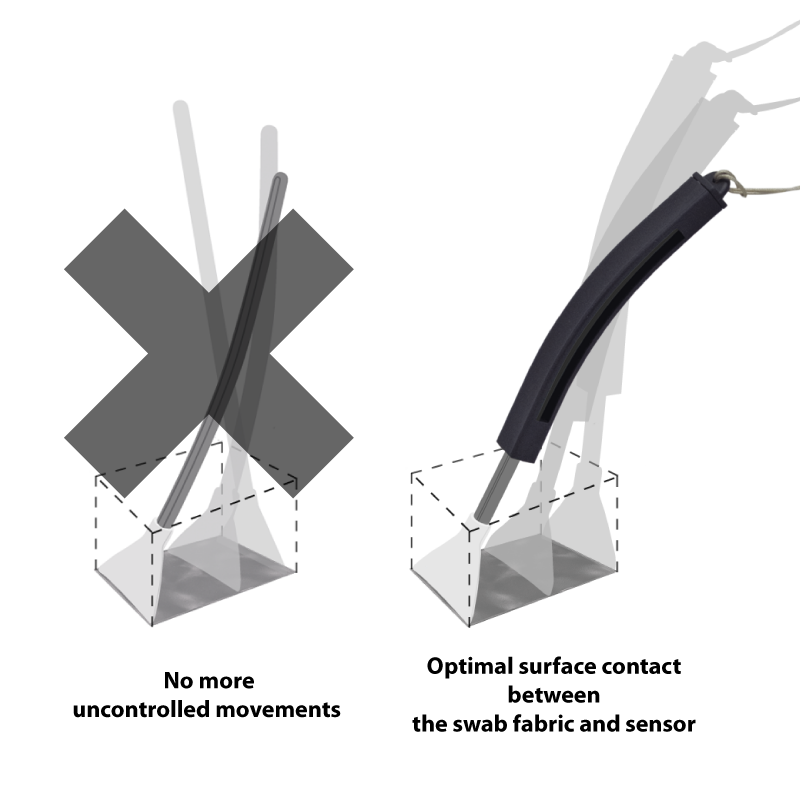 MXD-100 Green Vswabs®  and Corner Swabs™ are compatible with:
VDust Plus™ Formula liquid sensor cleaning solution
Smear Away™ liquid sensor cleaning solution
Sensor Clean™ liquid sensor cleaning solution
CMOS Clean™ liquid sensor cleaning solution



Note: VisibleDust sensor cleaning swabs and solutions are calibrated to work together to produce optimal and safe results. Please DO NOT USE alternative solutions with our swabs.
What's in the box?
Green MXD-100 Vswabs® sensor cleaning swabs 1.3x (12)
CurVswab™ handle – colors may vary (1)
Corner Swabs™ MXD-100 Green (4)