Westcott Collapsible 2-in-1 Gray and Green Screen Backdrop (5 x 6.5')
Product Highlights
Versatile, portable, and reversible 5' x 6.5' collapsible backdrop
Easy to light and provides a smooth and seamless look
Ideal for portraits, product photography, podcasts, vlogging, video conferencing, broadcast, online gaming, and more
Green Screen is compatible with virtually all video conferencing software and allows quick and clean chroma-key compositing
Gray background panel provides a neutral tone that can be easily adjusted to darker or lighter with lighting
Versatile double-sided design allows you to use take 1 backdrop to a job and provide 2 different looks
High-quality matte nylon fabric absorbs light and reduces light reflection
Flexible metal frame allows the backdrop to pop open quickly and hold the fabric tight
Integrated strap with sturdy touch fasteners for hanging
Easily hangs on a stand with background clip or wall hooks (sold separately)
Folds down quickly to 27" x 2" for storage in the included zippered carry bag
This product is currently out of stock. If you wish to be informed when it is back in stock, please click on the link below.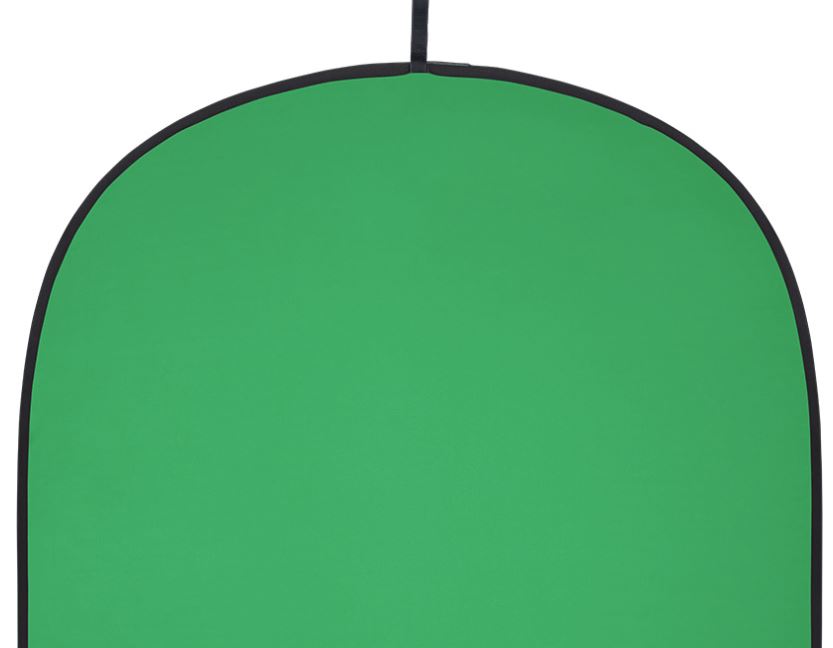 Ultra-Portable Collapsible Backdrop for Photo & Video

This reversible 5' x 6.5' backdrop is easy to light and provides a smooth and seamless look for professional-quality portraits, product photography, podcasts, vlogging, video conferencing, broadcast, online gaming, and more.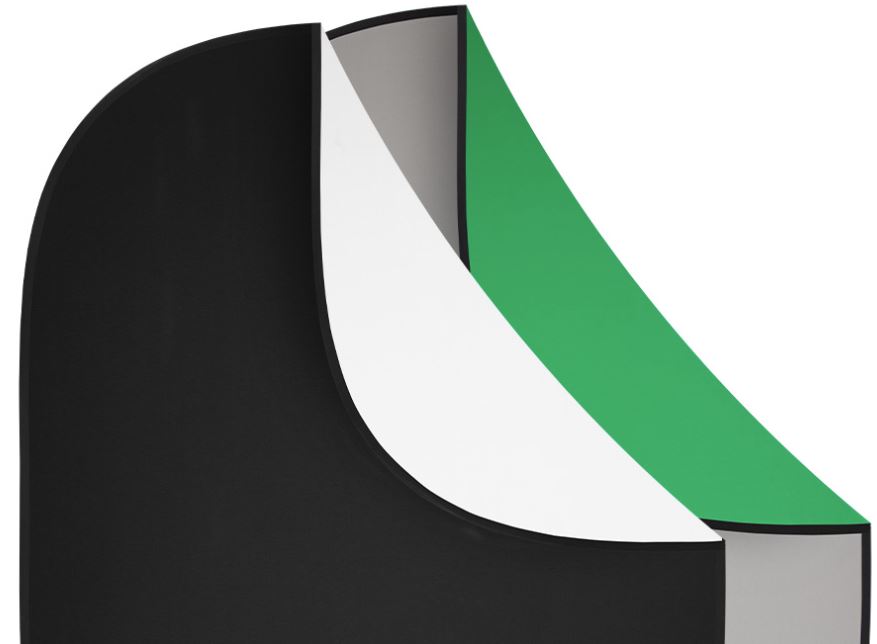 Versatile Two-Sided Background
Double-sided background provides flexibility, allowing you to take only one backdrop to a job while being able to provide two different looks. Easily alter the appearance using simple techniques, including high-key lighting for vibrant tones, low-key lighting for muted effects, adjusting the hue with gel filters, or vignettes with a backlight.
Green/Gray: The green screen background panel is compatible with virtually all video conferencing software for quick and clean chroma-key compositing. The gray backdrop provides a neutral tone that can be easily adjusted to appear darker or lighter using lighting
Black/White: The black backdrop absorbs light and deepens shadows for dramatic effects, while the white background panel provide a soft and diffused looks.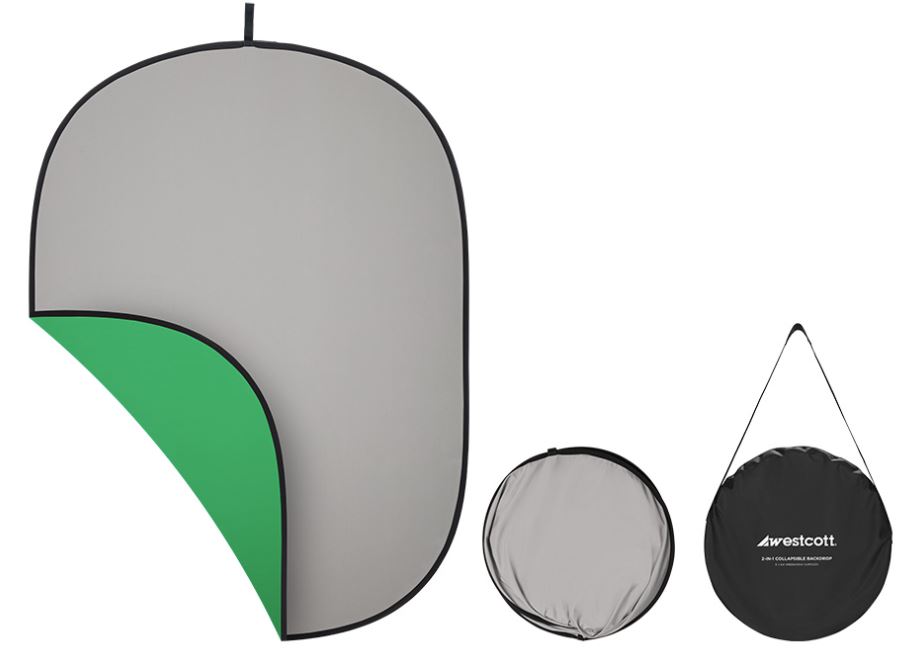 Easy Assembly, Mounting & Transport
The built-in flexible metal spring frame allows the backdrop to pop open in seconds, holds the fabric tight, and folds down to 27" with minimal effort for storage in the included zippered carry bag. An integrated strap with sturdy touch fasteners allows for easy hanging on a stand with a background clip or wall-mounted hooks (both sold separately).
Durable & Reflection-Free Material
Made using high-quality seamless matte nylon fabric, this double-sided backdrop absorbs light and reduces light reflection, perfect for photography and video indoors, outdoors, in-studio, and on-location.
What's in the box?
1 x Westcott Collapsible 2-in-1 Gray and Green Screen Backdrop (5 x 6.5')
1 x Carry Bag