Canon EOS R8 Body with RF24-50mm f/4.5-6.3 IS STM
Product Highlights
Approx. 24.2MP full-frame CMOS sensor & approx. 461g
4K 60p (6K oversampled) with Canon Log 3 & FHD 180p
Up to 40 fps & EOS iTR AF X
$2,247.00

(inc GST)
Regular price: $2,669.00
FREE with Purchase (1 - 31 December 2023):
Kioxia SD 32GB Card
Canon LP-E17 Battery*
*to be redeemed/purchased from Canon Customer Care Centre by 14 January 2024, after registering your product warranty online.
Lightweight Content Creator

The Canon EOS R8 is a full-frame mirrorless camera that weighs only about 461g but packs a powerful punch with high performance. This is the ideal content creation tool for budding photographers and videographers who need something powerful yet portable and future-proof.
Impressive details at 4K 60p
Through the 6K oversampling process that employs the debayer algorithm used in the CINEMA EOS System, the EOS R8 produces stunning 4K quality videos even at 60p. Enjoy improved video clarity and noise reduction over native 4K recordings.
Canon Log 3 / HDR PQ
Canon EOS R8 offers flexible 8-bit and YCbCr 4:2:2 10-bit options for casual content creators and professionals who need post-production colour adjustments.
Use HDR PQ to record HDR-compatible movies with high brightness, wide gradation, and wide colour gamut without colour grading or simply use a Picture Style preset to simplify your workflow further.
Canon Log 3 can permit richer colour expression, even in high-contrast scenes, if you prefer greater colour control in post-production.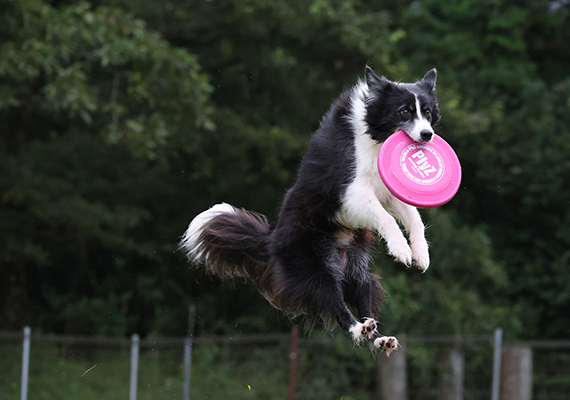 180p FHD

Add some flair to your videos by recording in 180p at Full High Definition (FHD). Complete your storytelling with some cinematic slow-motion effect (up to 6x slower when playback at 30p).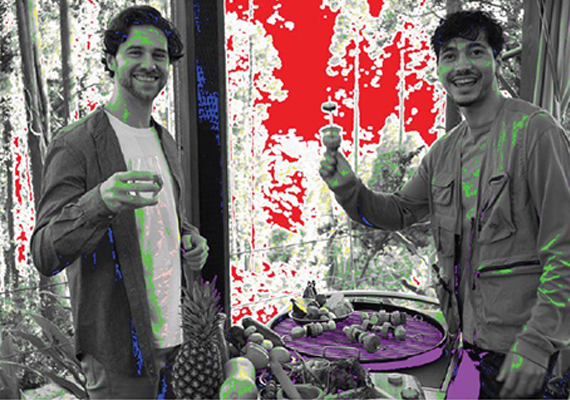 False Colour

Determine the exposure level of the recording by using this function. This will enable you to make adjustments that will prevent underexposure or overexposure in your videos.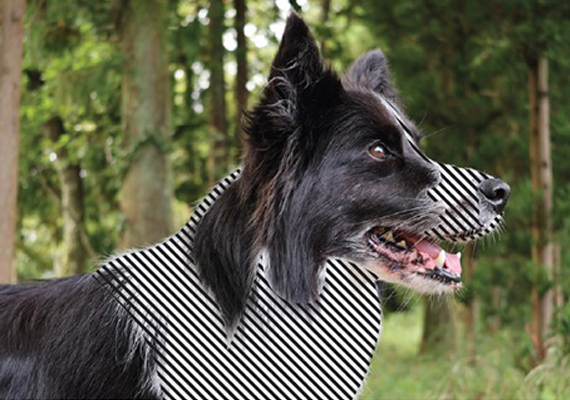 Zebra Pattern

Zebra Patterns are displayed on areas where brightness meets and/or exceeds a preset level, letting you quickly spot any potential overexposure and make adjustments before highlights get clipped.
Focus Breathing Correction

The camera's angle of view changes slightly during focus racking while recording video, causing an annoying 'pulsing' effect in the footage. The EOS R8 corrects this automatically when a compatible lens is used, ensuring a smooth and natural result consistently.
Steady & Smooth Videos

Achieve steady handheld footages every time, even when using a lens without IS. Movie Digital IS provides five-axis stabilisation to reduce the effects of camera shake.
When paired with an RF lens with IS, coordinated control is performed to enhance the stabilisation further.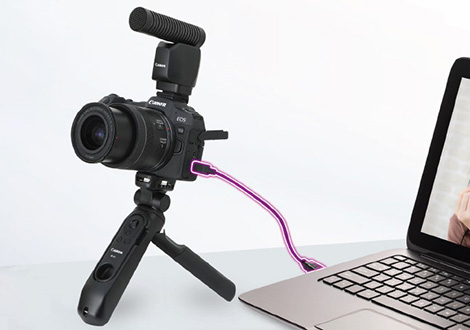 Livestream Ready

EOS R8 supports USB Video Class (UVC) and USB Audio Class (UAC), allowing it to be used as a high quality webcam simply by plug and play using a USB cable. Stand out from the crowd with high quality video and audio in your livestreams or online meetings.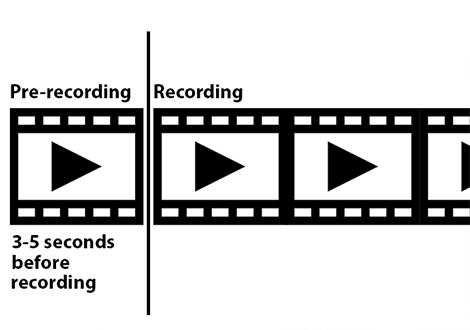 Pre-recording
With the EOS 8's Pre-recording feature, you hardly ever miss any unexpected moments. Choose between 3 or 5 seconds of pre-recording to get the amount of extra footage you want before hitting the record button.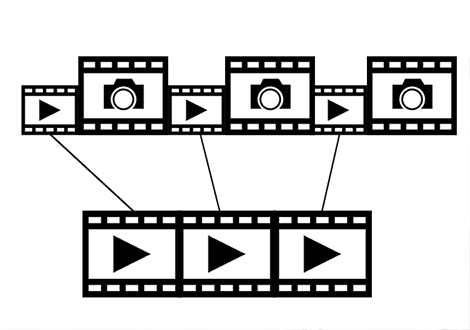 Hybrid Auto Mode

Now, you can make a video for the day without having to record anything. Before you take a photo, the Hybrid Auto Mode will automatically record approximately 2-4 seconds of footage. A short film in 30p is automatically generated by compiling all the short clips and images taken on the same day.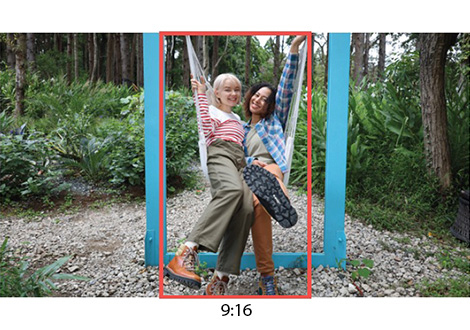 Aspect Marker

Use the Aspect Marker feature to create content that are tailor-made for your preferred social network. Visual indicators are visible based on the selected aspect ratio, making framing during shooting a breeze.
Ready for the Perfect Shot
Blazing Speed

Autofocus speeds as fast as 0.03 seconds make it possible to focus in the blink of an eye. In addition to its high-precision AF/AE system, the EOS R8 can shoot at up to 40fps in electronic shutter mode and 6fps in electronic first curtain shutter mode with AF/AE tracking enabled.
The 40fps silent burst is useful in situations that require silence, such as live performances or wildlife photography.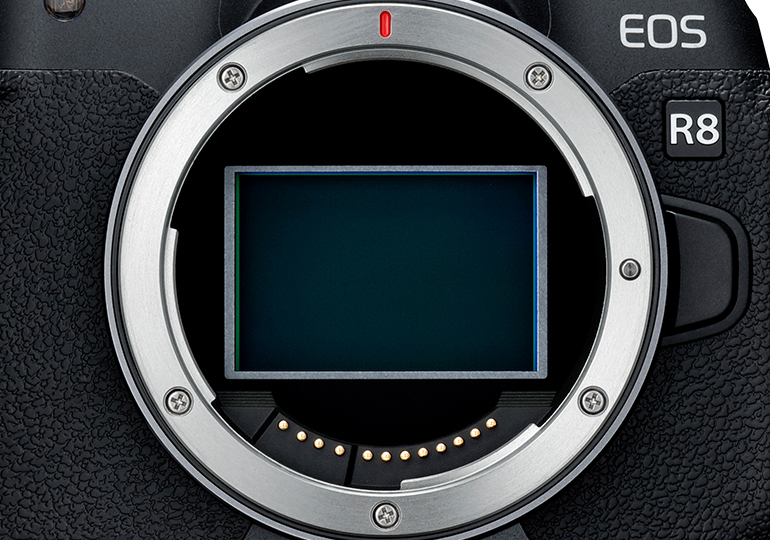 Aspect Marker

Use the Aspect Marker feature to create content that are tailor-made for your preferred social network. Visual indicators are visible based on the selected aspect ratio, making framing during shooting a breeze.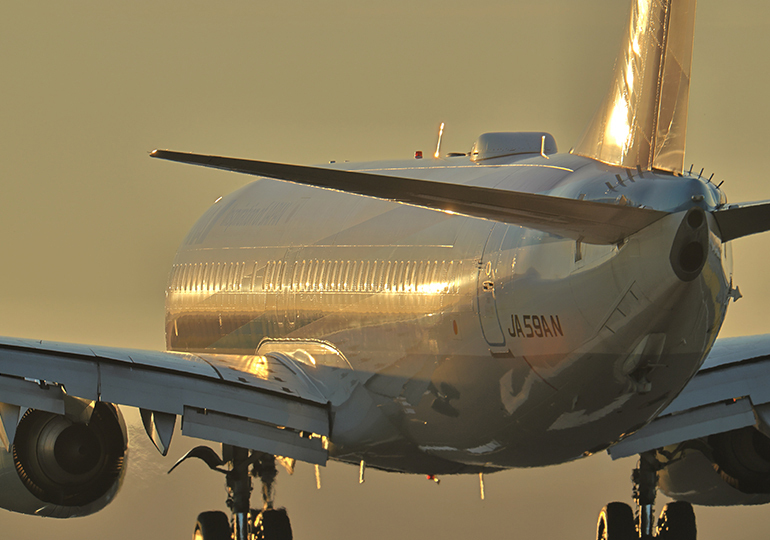 HDR

In HDR mode, your camera is capable of capturing photos with a greater dynamic range of light up to approx. 3000 nits. Under the Dynamic Range Priority setting, the camera will take three shots at varying exposures and merge them into a single (HDR) photograph.
With the new Moving Subject Priority HDR mode, you can get an HDR image with just one shot instead of the usual three, making it ideal for shooting subjects on the move.
Sublime Auto Focus
Subject Detection
While you concentrate on framing the shot perfectly, the EOS iTR AF X (Intelligent Tracking & Recognition Autofocus) will automatically detect and track moving subjects.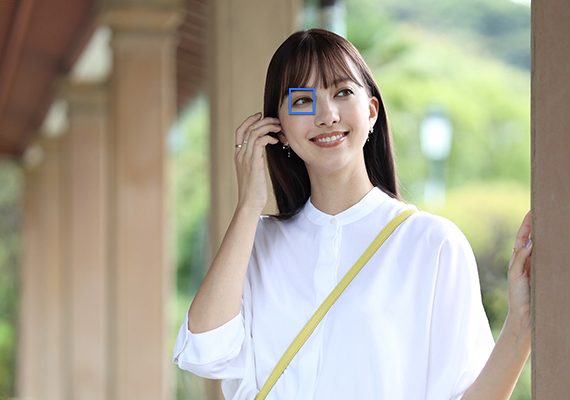 Human Detection

See how well the camera follows the eye, head or body when the subject moves, changes positions or even when partially obscured.
Additionally, you can choose which eye to track with the help of Left/Right Eye Priority Tracking on the EOS R8.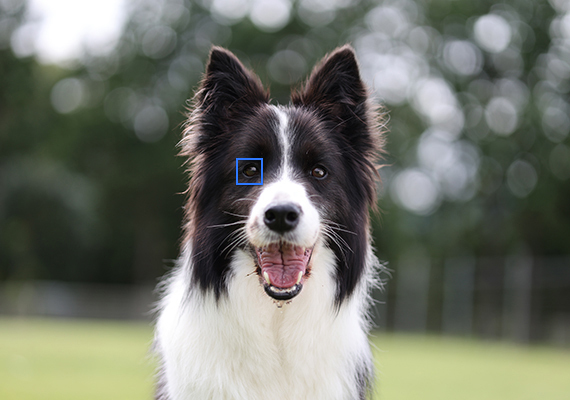 Animal Detection

Focusing on animals is never easy, due to their unpredictable behaviour. The Animal Priority AF eliminates this challenge and lets you focus solely on your creativity.
Cats, dogs, birds and horses can now be tracked under this mode.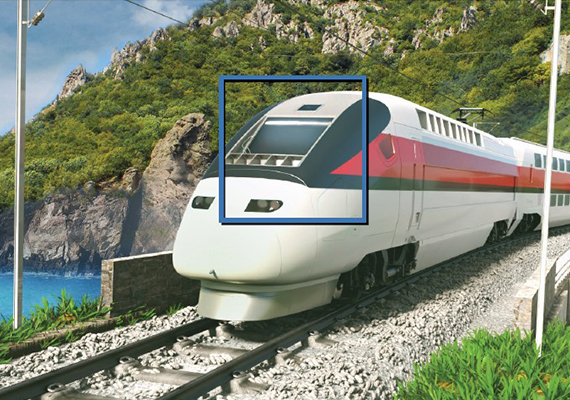 Vehicle Detection

If you're trying to get clear shots in the fast world of motorsports, the Vehicle Priority AF will help you out by tracking the vehicle.
Apart from cars and motorcycles, trains and planes are included as well.
Design Excellence

Ergonomic Operability


For the convenience of those who take photos and videos, the layout of the buttons and switches has been redesigned. In addition, a dedicated lever for quickly switching between photo and video modes has been added, allowing you to do so without using the mode dial.
With such a huge library of features and settings within the camera menu, the EOS R8 makes it easy for new users to understand the various features with its visual guides. The shooting mode guide provides a brief description of the selected mode as well as an example image. The feature guide displays a brief description of the screen's functions and settings.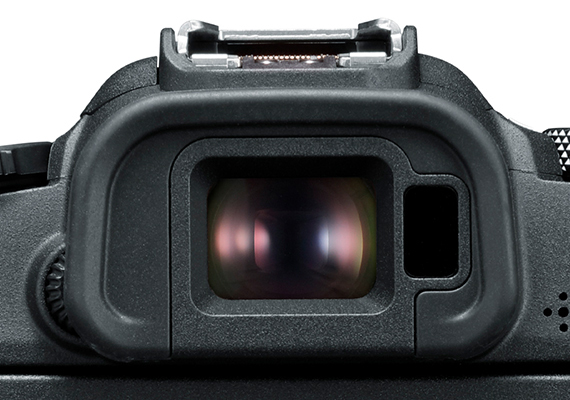 EVF

Superb colour accuracy is achieved by the 0.39-inch OLED electronic viewfinder's (EVF) with approximately 2.36 million dots. During fast-paced panning shots, the 119.88 fps refresh rate (double that of the EOS RP) ensures a comfortable and fluid viewing experience.
Canon's HDR image processing technology allows the EVF to simulate the look of an optical viewfinder, enabling enhanced gradation in highlights and more details in shadow areas.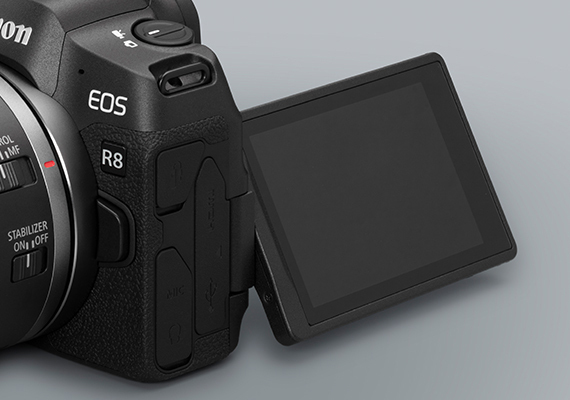 Vari-angle LCD

Experiment with new perspectives, whether from above, below, or by simply reaching around an obstacle.
The fully articulating 3.0-inch touchscreen LCD with 1.62-million-dot offers flexibility and convenience for more challenging angles.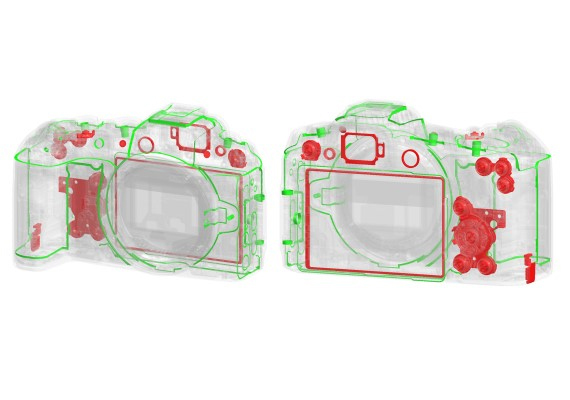 Dust & Drip-Resistance

In addition to being dust- and water-resistant, the EOS R8's chassis is constructed primarily with magnesium alloy to withstand the elements.
Numerous sealing and high-precision components are incorporated into the camera to prevent dust and water droplets from entering.
Multi-Function Shoe

Sporting a next-generation interface with dust- and water-resistant design. The brand-new Multi-Function Shoe provides power from the camera and allows data transmission to support various types of accessories such as:
Speedlite EL-5*
Speedlite Transmitter ST-E10
Multi-Function Shoe AdapterAD-E1
Directional Stereo Microphone DM-E1D
Smartphone Link Adapter AD-P1
*uses own battery
Connectivity
Wi-Fi
Transfer files wirelessly and quickly from the EOS R8 to your smart device or PC using high-speed 2.4 GHz built-in Wi-Fi*. The EOS R8 supports Wi-Fi Protected Access 3 (WPA3) for added file security on wireless networks.
*Specifications may vary depending on country and region.
USB-C
A USB-C port allows easy file transfer from the EOS R8 to an iOS or Android phone via the Camera Connect app with a compatible USB-C cable. You can now charge your camera via the USB port with the Canon PD-E1 USB Power Adapter (sold separately).
Bluetooth
The built-in Bluetooth connects the EOS R8 to an iOS or Android phone and supports the remote controller function through the Camera Connect app. It also supports the BR-E1 wireless controller.
image.canon
Automatically transfer images and videos in their original quality from your camera to Canon's cloud storage service image.canon, from which you can then upload to social media, download data to your PC, or forward to third-party cloud storage services and editing apps.
What's in the box?
1 x Canon EOS R8 Body
1 x RF24-50mm f/4.5-6.3 IS STM
1 x Canon LP-E17 Battery Pack
1 x Canon LC-E17 Battery Charger
1 x Body Cap (R-F-5)
1 x Shoe Cover
1 x Strap
Af Modes
One-Shot AF, AI Focus AF (stills), Servo AF / Movie Servo AF
AF Point Selection
Spot AF, 1-point AF, Expand AF area (above/below/left/right or around), Flexible Zone AF 1 / 2 / 3, Whole area AF
Af System Points
Max. 1053 AF frame zones (Stills/Movies)
Closest Focusing Distance Cm

30 (f=24mm)
35 (f=50mm)
Continuous Shooting Speed (shots per sec) (Up to)

Electronic 1st curtain: 6
Electronic shutter: 40
Digital Zoom
Digital Tele-converter x2.0 & x4.0
Dimensions (Excl. Protrusions) (mm) (Approx.)
132.5 × 86.1 × 70.0
Drive System
Leadscrew-type STM
Effective ISO

Stills: 100–102,400 (L:50 / H:204,800)
Movie: 100–25,600 (H:102,400)
Canon Log movies: ISO 800–25,600 (L:100-640, H:32,000 - 102,400)
HDR PQ movies: ISO 100–25,600*

*HDR mode [Moving sub] requires min speed of ISO 800
Effective Pixels (megapixels)
24.2
Exposure Compensation

±3 stops in 1/3-stop or 1/2-stop increments
AEB: ±3 stops in 1/3-stop or 1/2-stop increments
Eye detection AF
Yes (Auto / Left-eye Priority / Right-eye Priority)
Equivalent Focal Length 35mm
24-50mm
Guide Number ISO 100 Metres
-
Image Resolution

6000×4000 (JPEG L/RAW/C-RAW/HEIF)
3984×2656 (HEIF, JPEG M)
2976×1984 (HEIF, JPEG S1)
2400×1600 (HEIF, JPEG S2)
Image Stablizer

Still: In-Lens (Optical Image Stabiliser)

Movie: In-body-5-axis electronic image stabilisation (Movie Digital IS) Coordinated Control IS (Optical IS + Movie Digital IS)
LCD Monitor (Size) (Inch)
3.0
LCD Monitor Resolutions (dots)
1.62 million
Memory Card Type

Single Card Slots (SD, SDHC*, SDXC*)
*UHS-II cards supported
Metering Mode

Stills: Evaluative, Partial, Spot, Center-weighted average
Movie: Evaluative (when faces are detected), Center-weighted average (when no faces are detected/When set to Canon Log 3)
Optional Power

AC Power (AC Adapter AC-E6N and DC Coupler DR-E18)
USB Power (PD-E1)
Peripheral Connections

USB Type-C (SuperSpeed Plus USB (USB 3.2 Gen 2) equivalent)
External microphone IN
Headphone terminal
HDMI micro (Type D)
Remote control terminal (E3)
Multi-function Shoe
Sensor Size
Full-frame CMOS
Shooting Modes

Stills : A+/Hybrid Auto/Special scene mode/Creative filters/Fv/P/Tv/Av/M/B/C1/C2

Movies : A+/Special scene mode (HDR movie)/Creative filters/P/Tv/Av/M/C1/C2
Shutter Speed Range (Sec.)

Stills:
Electronic 1st-curtain: 30 - 1/4000,
Electronic shutter: 30 - 1/16000, 30 - 1/8000 (High-speed continuous shooting +)

Movie recording:
Auto exposure: 1/25* - 1/8000, Shutter-priority/Manual exposure: 1/8* - 1/8000
*Varies by shooting mode and frame rate
Standard Power Supply
LP-E17
Still Image Format
JPEG, HEIF, RAW, C-RAW
Viewfinder Coverage (Approx.)
100%
Viewfinder Type

0.39-inch OLED, approx. 2.36million dots
59.94/119.88 fps Refresh Rate
Weight
Approx. 671g (including the battery and memory card). For camera kits, this weight includes the kit lenses.
White Balance

Auto (Ambience priority/White priority), Daylight, Shade, Cloudy (Effective in twilight and sunset), Tungsten light, White fluorescent light, Flash*, Custom, Color temperature setting (approx. 2500–10000 K)

Shoot to set white balance (Live View), White balance shift and white balance bracketing features available

*Flash color temperature information transmission possible (EX / EL Series Speedlite)X-sync (sec.)Electronic 1st curtain: 1/200
X-sync (sec.)
Electronic 1st curtain: 1/200